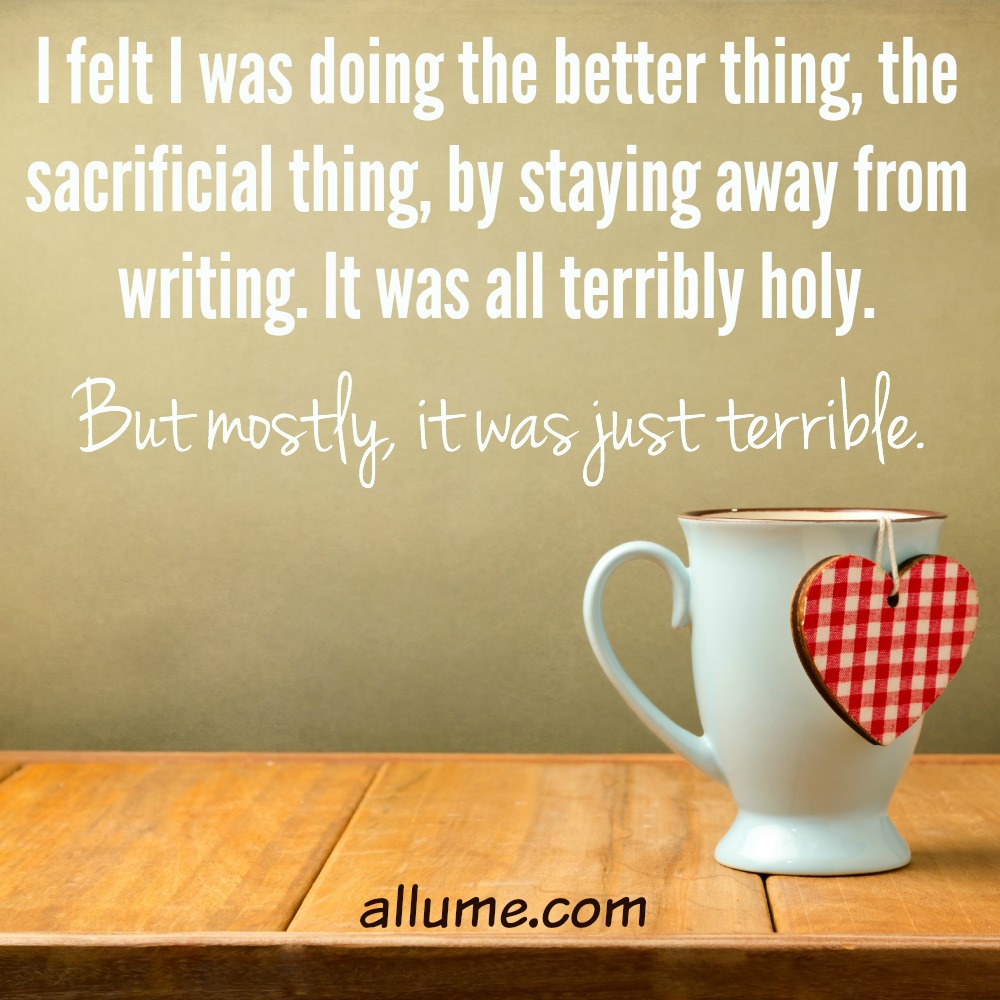 My old desktop computer, the one I bought with my own babysitting money and hauled away with me to college when I was naive enough to think I could be a writer, quit working.  My husband made a skull and crossbones picture and taped it to the monitor.
It was dead.
But it didn't really matter because I hadn't written a single thing in two years, except for grad school papers, and those didn't count.
I felt like something had died inside of me too, but I couldn't see any way around it so I shoved the words aside.
It's just that I couldn't do it, not well.  I couldn't be an attentive wife and doting mother and token employee and perfect housekeeper and all the other things I thought I should be, and write.
So I gave it up, that writing thing, and I had told myself that writing was just a selfish dream anyway.
Because when I write, my husband eats peanut butter and jelly and my children run out of clean underwear.  When I write, I stare at the computer and forget to read bedtime stories and say "Uh-huh" to everything the kids ask, including, "Can we give the cat a haircut?" 
When I write, my family suffers.
And it all seemed so self-indulgent, to sit down and let the words flow out, to feed some kind of need I had to put pen to paper when all around me the needs of my family and my church and my community were so much greater.
So I patted babies and stirred dinner and felt all the while that I was doing the better thing, the sacrificial thing, by staying away from writing.  It was all terribly holy.
But mostly, it was just terrible.  
"So, you're just going to quit writing?  Because it's hard?"  my husband asked one day.
Yes, actually.  That was my plan.  He didn't seem to understand how tortured I felt when I wasn't writing, and how guilty I felt when I was.  He didn't seem to remember the fact that when I wrote, I let the dishes pile up in the sink and forgot to buy milk.
"But Kristie," he said, "you're a writer."
That word pulled a plug in me and all the tears flowed out.   That was the name God gave me when my soul-clay was still damp and new.  He took a holy hand and wrote writer into me, and it has defined me ever since.
But I was a mother too, and a wife, and a child of God, and I felt so divided sometimes that the only thing I could think to do was give up the one thing that seemed negotiable, the one thing that seemed self-serving and selfish.
Because nothing felt so right in me like when I wrote, and that couldn't be good.  It didn't seem right that something should fulfill me that was not God, or my husband, or my children.  I could sniff out an idol as well as the next girl, and writing reeked of it.
If there was one thing I knew, it was that the road is narrow, and if I knew two things, it was that there are crosses to bear and flesh to deny, and anything that made me feel whole should be given up because broken is what we should be before God.
I learned that last bit in Sunday School, whether they taught it or not.   I learned it so well that I forgot the other parts about how every good and perfect gift comes from above, right from the same hand that formed me.   I forgot how God delights to see me use my gifts, almost as much as I delight to use them.
I forgot that crosses are for crucifying our flesh, not our beings.  Who I am and who I was made to be, well, that's the part God wants to grow up into perfection.  That's the part He wants me to multiply for His glory, not bury because I'm afraid and out of balance and I don't like feeling like a poor excuse of a housekeeper when I write.
A few years later, my husband handed me a present.   It wasn't even my birthday, and I felt strangely embarrassed at the surprise.  Inside the paper was a brand new laptop, bought with money my mother-in-law had collected from friends and relatives on both sides of our families.  "We want you to write," the card said, over and over again in different words.  "We want you to write."
Those were the same words my Father said to me when He gave me the gift and called me a writer.  Foolishly, I had tried to give back His gift.
I couldn't refuse this one.
So I opened the lid to the laptop and wore the letters right off the keys with all the words that had been waiting.  I let the dishes pile up some days and learned to keep frozen pizzas in the house, just in case.  I still don't understand balance and the kids can get me to say yes to anything when I'm typing out a story.  I just don't mind it as much because it means something.
It means I'm a writer.
Post from the archives, authored by Kristen