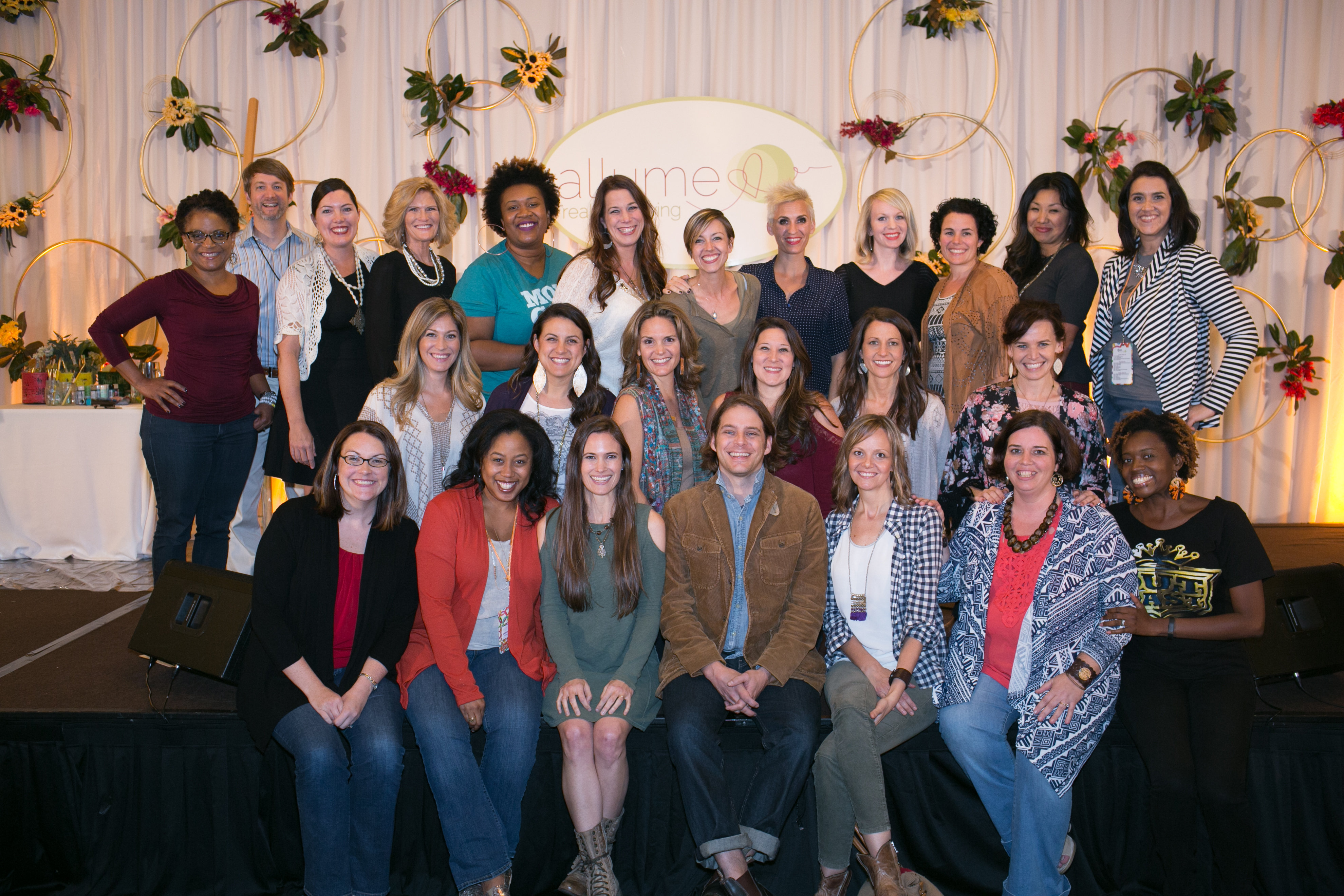 2015 Conference Sessions Audio Bundle Available Now!
Add to Cart
It's hard to believe that after months of planning and anticipation, the Allume 2015 Conference has come and gone!  It was an absolutely beautiful time of fellowship, with growth and encouragement reaching places personally and professionally for all of us.
One great thing about being at the conference is that there were so many incredible sessions to choose from! That's also the bad thing, as most of us have yet to perfect the art of being multiple places at one time!  But we don't think you should have to miss out just because you haven't mastered omnipresence, so … we have made all of the sessions available to you here!  Enjoy them over and over in the comfort of your own home … wear pajamas, eat cake, put them on repeat … the point is, they are all here for you now!  Please honor our investment in the videos, and in you, and don't share them, but enjoy them to your own heart's content!
Whether you were with us in Greenville, SC or not, we hope the wisdom and encouragement shared at Allume will continue to transform your life and ignite your heart!
Heaps of Blessing on you all!
Logan and the Allume Team
Add to Cart
Sessions Included:
Alisha Gordon : Open Eyes Open Hearts : Broadening the Social Scope of Your Writing
Amber Haines : Writing the Invisible
Brian Dixon : Your Email List Building System
Colleen Mitchell : Changing the World from Where you Are
Deidra Riggs : Making it Safe to #GoThere: Building Authentic Online Community
Gwen Smith : Balancing the Beauty and the Blog
iBloom : Regret-Free Zone: Make Your Goals Your Reality and Live a Life You Love
Jamie Ivey : The Whats and Whys of Podcasting
Julie Holstein : Moving From Compassion to Action
Kristen Kill : Building Brand Relationships
Lauren McAfee : Heritage and Legacy
Melanie Dale : My Mix Tape: Make Your Faith, Life and Passion for the Globe Work Together
Publishing Panel : End to End Perspective of Writing to Publishing Your Book
Rob Eagar : Creating a Stellar Book Proposal
Ruth Simons : What it Takes to Run a Creative Business Online Without Losing Heart
Sarah Mae : Avoiding Burnout: Choosing Your Life So You Don't Grow Weary in Your Kingdom Work
Shannan Martin : Spin Like You Mean It: Living and Writing a Full Life with Great Purpose
Stephanie Smith : Prophetic Writing in an Age of Noise
The Nester : Monetizing Your Blog
Tim Willard : Beauty, Frankenstein and the Lost Art of Wonder
Add to Cart