My daughter grips the handle bars of her new bike — the kind without training wheels. With consternation and dread, she stands motionless on the sidewalk while the other kids ride their bicycles up and down our street.
Fear holds her back.
"Explain it to me again," she asks.
But we've already given explanations and demonstrations. We've even promised to run beside her and hold her bike upright. It's time for her to pedal. No one can do this for her.
When it comes to riding a bike, we learn by doing.
It's the same with writing too.
We can observe great writing in others. We can listen to good advice about the craft. We can accumulate lists of dos and don'ts. But until we push a pen across paper, we're merely gathering information.
We learn to write by writing. This sounds simple enough. But our fears paralyze us. Only it's not a scraped knee we're worried about.
We're afraid of looking foolish.
We're afraid of using incorrect grammar.
We're afraid our work will bore readers.
We're afraid our work won't have any readers.
We're afraid we'll be misunderstood.
We're afraid we'll be understood but not liked.
These fears have one thing in common: They might come true.
But we'll never know unless we begin.
We may think our words don't mean much. But our words matter. Our stories matter. And a writer must be faithful in the telling. Maya Angelou once said:
"There is no greater agony
than bearing an untold story inside you."
Are you carrying an untold story?
Would your story bless someone else?
Is fear holding you back?
If we could meet in a café and talk about writing, I'd tell you this:
Never let the fear of incorrect grammar hinder you from expressing your ideas. Yes, good grammar is important, but it's reserved for the later stages of editing. For now, just write.
Let the writing flow from the deepest places inside you. Reveal the real you. Readers connect with humanity, not perfection.
Embrace the process as much as the final product. Through the act of writing, we acquire a deeper understanding of ourselves and the world around us. Take your readers on this journey with you.
Allow yourself to "fail," and view each "failure" as a chance to grow and learn. No one ever achieves mastery on a first try. And if they did, no one else would be able to relate.
Keep writing. There's mystery in momentum. Once we begin, we can usually find the next step, even when we've yet to uncover the final destination.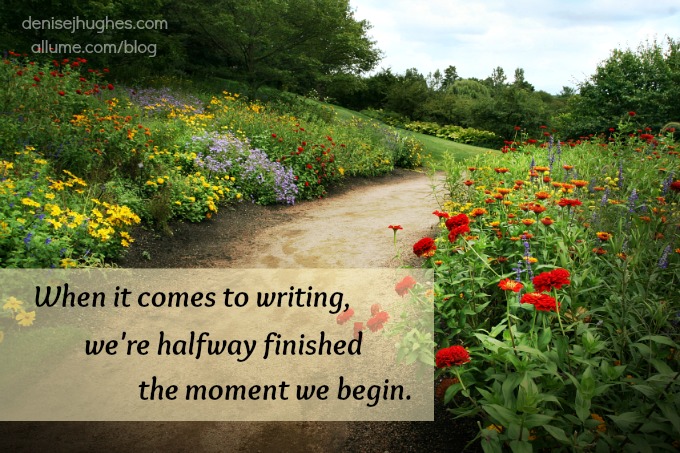 When it comes to writing, we're halfway finished the moment we begin. Because getting started is the hardest part. It requires pushing past the fear.
My daughter discovers this same truth when she finally starts to pedal. At first, her slowness of speed threatens to topple her balance. So she has two choices. Either pedal faster. Or quit.
She soon hears the neighbors cheer.
"Keep going! You can do it!"
With her fears hanging on the verge of fruition, she leans forward and pedals faster. The momentum begins to work in her favor, and she feels the rush of wind against her cheeks. Shrieks of wild delight can be heard around the cul-de-sac.
I'm left standing in the street, breathless and panting and smiling at another milestone marked.
Will she ever fall and get hurt?
She might. But we remove the might — the power — from fear when we stop worrying about what might happen.
Will our words ever meet with disappointment?
They might. But they might also bring sheer bliss as we lean forward with fingers flying across keys.
Fear loses its stranglehold when writers refuse to let hypothetical scenarios dictate their destiny.
Writers can overcome the manacles of "maybe" and "might" when they choose to do one thing: Begin.
Do you have an untold story inside you?
What fears are preventing you from writing?
TWEETABLES:
"When it comes to writing, we're halfway done the moment we begin."  <Tweet this!>
"We remove the might—the power—from fear when we stop worrying about what 'might' happen."  <Tweet this!>
"Writers overcome the manacles of 'maybe' and 'might' when they do one thing: Begin."  <Tweet this!>
Ready to push past fear and begin writing?
Practical writing tips on how to get started are
HERE and HERE.