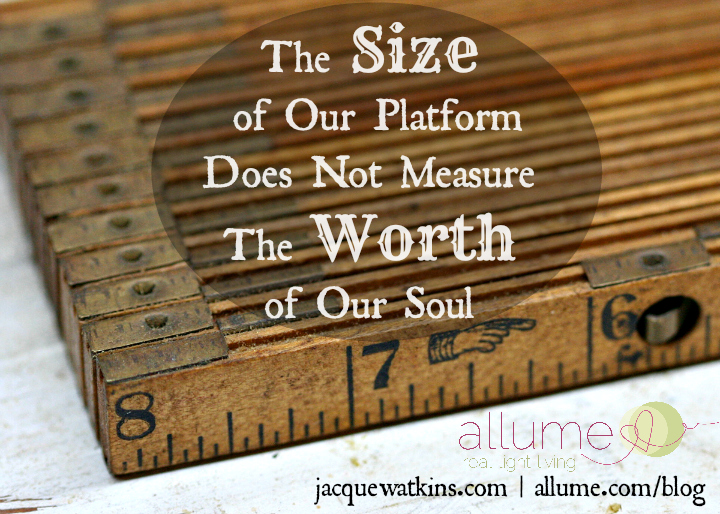 I begin in the west and fly halfway across the country before I finally arrive for the conference. The driver picks me up at the airport and I'm reunited with my online friend who started her journey this morning in the east.
We chat a mile a minute and look forward to seeing our "smaller" blogger friends and many of our "bigger" blogger friends too.
During the conference I meander through sessions with my "smaller" blogger friends, all the while casually noticing who's interacting with whom. I watch the "bigger" bloggers interact with their own circles of friends, while I engage with mine—looking them in the eye, listening, and relating.
But I deceive myself, because while I think I'm fully present in each conversation, in reality I'm partly absent. And as the conference presses on, I realize I'm disappointed when my "bigger" blogger friends have not initiated a fuller connection with me.
And it's the last day of the conference when God convicts me of a cold hard truth.
My disappointment is a symptom of my illness—the virus of insecurity—hovering like a flu.
It has infected me. And I ache with its uncertainty while questions linger…
Do I matter?
Do I fit in?
Do "they" notice me or even want to be my real friend?
That last afternoon I leave the lunch table with my friend Alia, and make my way across the room toward our other roommate Amy—my in-real-life friend and newbie blogger—who has come with me to the conference.
And as we approach, she immediately turns to us, as if our timing is perfect.
"Hey guys! There's someone I want you to meet.
This is Jennifer, another newbie.
And at lunch I asked her which of the "bigger" bloggers she most wanted to meet here.
And you know who she said?
Jacque Watkins and Alia Joy.
So I told her I could probably hook her up, since you guys are my roommates."
I startle, like a deer caught in headlights.
Did she actually just say my name with the phrase "bigger" blogger?
Shocked on the inside, I greet Jennifer with a smile, flattered and completely stunned anyone would consider me a "bigger" blogger. She is sweet and gracious—a tea-drinking mama of four. And after our delightful interaction, I'm better for having met her.
As I fly home, reflecting on the conference, the Holy Spirit woos and convicts me again.
During the conference I wasted so much mental time, and internal dialogue, wondering if I'd get to build deeper relationships with  "bigger" bloggers.
While probably there were others there, who would've loved to build a deeper relationship with me.
And the recognition of this truth is like medicine for my ill and insecure heart.
Could it be possible everyone thinks of themselves as a "smaller blogger" and is waiting for that "bigger blogger" to initiate a connection?
Could it be that no matter who we are, there will always be someone "bigger"  to look to? That the one we see as a "bigger" blogger has an even "bigger-blogger" person they'd love to be pursued by too?
And could it be, that to someone, somewhere in the world, YOU are the "bigger blogger"?
That there is one someone scanning the room–looking for you—wishing they could meet YOU?
Hoping YOU'D go out of your way to pursue a connection with THEM?
No matter the size of our platform, we are all asking the same questions at our core:
Do I matter?
Do I fit in?
Would they really want to be my friend?
And the real truth is, our worth and purpose and significance is not dependent on whether a "bigger" blogger knows our name or pursues a friendship with us.
And we need the real truth to sink deep into the crevices of our hearts:
We all matter and fit in because we are His.
He chose us.
And He has great things planned for each of us to do.
So what if, instead of finding our validation from the "bigger bloggers" in our lives, we find our soul's validation in our time spent with Jesus?
Allowing His Word to inform our starving souls of who He is,
And the truth of who we are because of Him…
Chosen.
Beloved.
Redeemed.
The child of God.
We are eternally valuable regardless of the size of our platform. 
And the size of our platform does not measure the worth of our soul. 
So when we set foot inside the walls of the Allume conference this October…
What if we become the initiators of connection because our security in Christ compels us to do so with whomever God places in our path?
What if we say hi first? Flash a smile first? Begin the conversation first, as a people who love in His name?
What if we stay fully present with whomever we're with—refusing to allow our minds to be "noticing" the room?
And what if we make an effort, to not only hang out with our "people," but to branch out to new circles of beautiful people? So that no one leaves feeling small and alone.
May we remember we are in this together…
Cheering for each other,
Fighting to believe who He says we are,
And really knowing we ARE already enough because of Him.
I can't wait to see you at Allume!
Will you be there?