Saul Robles has been a friend of Allume since the days of its inception.  He is the Director of Marketing and Commerce for Dayspring, but anyone who knows him calls him Santa Saul.  Some say it's because he often comes bearing fabulous Dayspring gifts, but we like to think it has more to do with the generous spirit he wears like a uniform.  Saul has been reading blogs for ages, and creates welcome wherever he goes.  It is our pleasure to have our friend Saul not just joining us at the conference this year, but sharing some of his wisdom, knowledge, and heart as well!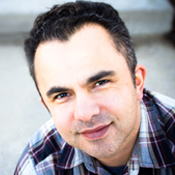 What chore do you despise the most?
I will never understand the lawn thing.
What sound do you love?
Despite living in small-town Arkansas, I'm a city boy at heart. I love the sounds of the hustle and bustle of a city.
If you could only do one things for a whole year what would you want it to be?
Chase Fall… I have a theory that at any given time Fall is happening somewhere around the world and I have a dream of finding it and following it around for an entire year.
If you could learn to do anything what would it be?
I can't wait to learn to play the violin in heaven and jam with the heavenly choirs.
What would the dream birthday present be?
Email amnesty or email jubilee, or whatever the term would be to clear out my inbox(es)
What is something new you learned last week?
I'm painfully more aware that my high tolerance for chaos works against my heart's desire for being present.
If gifted an all expenses paid vacation to anywhere where would you pick?
I received this gift a few years back and I'm looking forward to it… heaven!
If  I was coming to your house for dinner, what would we have? 
We would definitely go out to eat… how about some Ozark plateau cuisine?