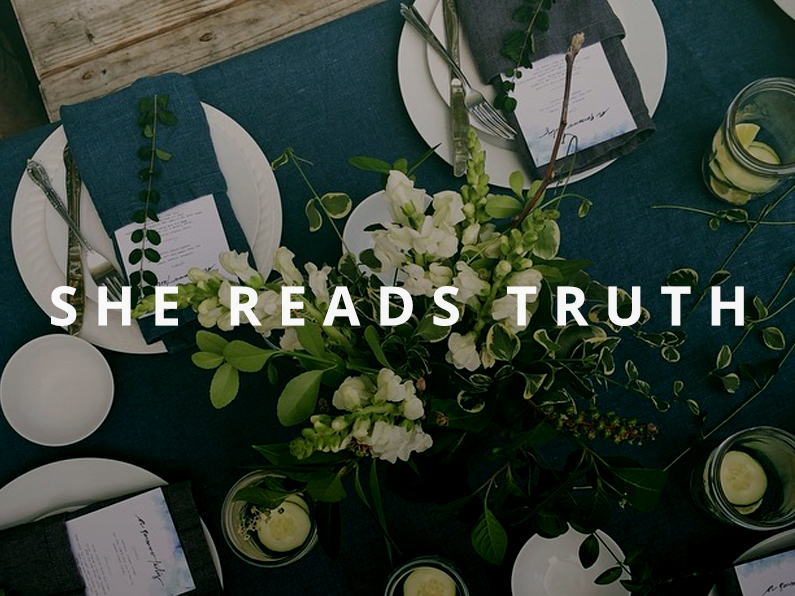 Welcome to She Reads Truth!!
…
I was 24 and single, living in a city I loved. There were 10 of us and we met weekly to study the Bible together. We spent over a year reading through the book of Acts with the help of a commentary by John Stott, who we affectionately called "Uncle John." We were friends, we were a set, we belonged to each other. We didn't just share a once-a-week experience together—we shared the in-betweens, too, the notable and not-so-notable parts being 20- and 30-something.
Even as a girl who grew up in the Southern church, no stranger to quiet times and devotionals and the regular Bible study trappings, reading the Bible never felt as natural to me as when I read it with those nine friends. And then I met the hashtag… that would become a community… that would become my heart's calling— She Reads Truth.
The desire that drew me to that table of friends 12 years ago is the same one that wakes me in the morning to lead this beautiful community of God-seeking women. It is not the need for more spiritual know-how or more Bible savvy. It is simply the need for more Jesus.
Formulas are fine and workbooks are helpful, but there is no substitute for women dropping their defenses at the door and sitting down as their real, seeking selves to read the Word of God honestly with and to each other.
She Reads Truth is a place where we come together with no other goal than to read the Bible and meet Jesus there. He is the Why behind our every word.
The mission of She Reads Truth is simple and unchanging: Women in the Word of God, every day. We champion God's Word alone, not our interpretation of it or any flowery words we place around it — not even a particular denomination. You see, we believe the Bible is for us, for you. We believe we are meant to open it, to read it, to engage and wrestle and sit with its Truth. We believe it is trustworthy and relevant, God-breathed and powerful. We believe it is as much for the woman who just met Jesus as it is for the one who has known Him for decades on end.
We believe God's Word changes lives. And we'd love for you to come read it with us.
At She Reads Truth, we experience 1- to 3-week reading plans together as a community.  There are 3 ways to pull up a chair to the virtual She Reads Truth table—
You can read along on the web site, SheReadsTruth.com.
You can read along on the She Reads Truth Bible + Devotional ios App (Android app coming super soon!).
You can receive devotionals via email by subscribing here.
Whether you choose any or all of the above, y'all come! (Did we mention we're from the South?)
Something we love to do for our community is to create lovely, functional study packs as an optional, tangible resource for our SRT women to use to enhance their study and their time in God's Word. These study packs include a custom, boutique-style journal with space to process and pray through what you're learning, scripture prints and cards to visibly and beautifully weave God's Word into your everyday lives, all featuring art from artists we love.
In fact, we'd love to give away a couple study packs to you girls today if that's okay?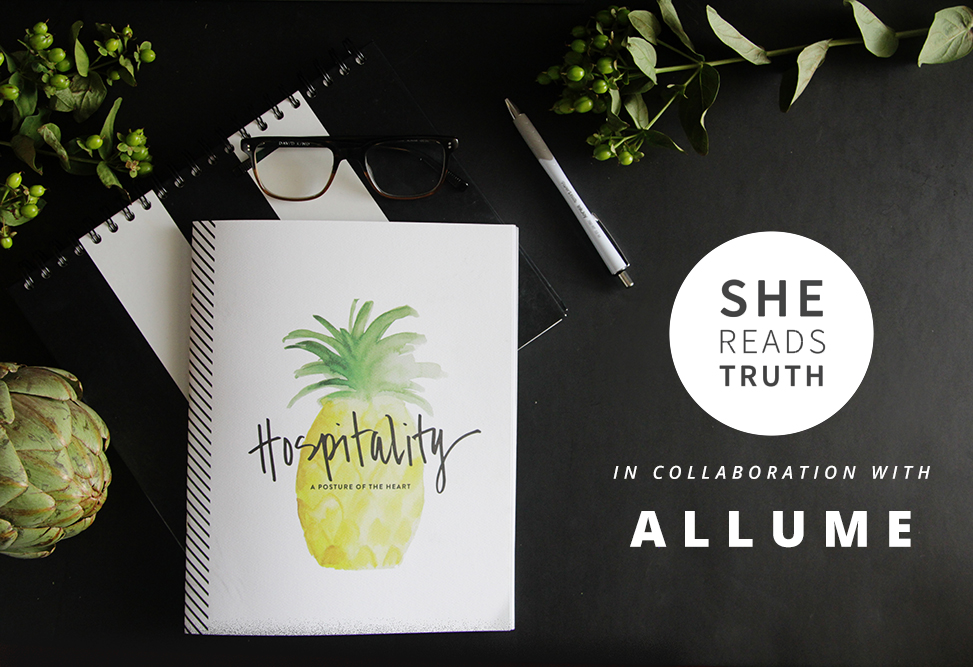 Giveaway
Enter below by leaving a comment for a chance to win a $50 credit to the She Reads Truth Shop!  Use your credit to purchase study packs for our next two studies — Hospitality (written in collaboration with Allume!) and In Everything Give Thanks—or buy two copies of the same and work through the study with a friend!
Giveaway ends at 11:59PM EST on Friday.
Friends, we are so happy to meet you. We truly hope you'll stop by and read along with tens of thousands of our closest friends as we seek the Lord daily in His Word. He is faithful to meet us there.
P.S. We get to meet some of you next week at Allume!! Come find us. We can't wait!
xo,
Amanda & Raechel
_________
Amanda Bible Williams (@biblewilliams) is the Editorial Director of She Reads Truth, a community of women who read the Bible together daily. She works alongside the lovely Raechel Myers (@raechelmyers), She Reads Truth co-founder and CEO, to joyfully walk with women around the world as they go to Jesus— just as they are, every day. Raechel and Amanda both live and work in Nashville, Tennessee.