He's tall and thoughtful, she's short and spunky, and together they are just quite honestly a super cute couple!  Ashley and Jamin Mills have always loved creating things together, and so after years of working on their home and sharing projects on Ashley's blog, The Handmade Home, it's became clear that this blogging thing wasn't just for Ashley, but for their whole family.  So Jamin quit his day job and now they are living, working, and creating together full time!  They are the family we'd all love to have next door and we are thrilled to pieces to have them join us to share more about their journey into full-time blogging this fall at Allume.  You're going to love them if you don't already…we most certainly do!  Please enjoy getting to know Ashley and Jamin Mills!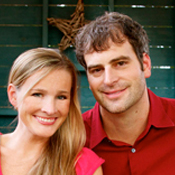 When was the last time you chatted with your neighbor?
When we both rolled our other neighbor's house.
If you could only do one thing for a whole year what would you want it to be?
Dance like an octopus.
If you could learn to do anything what would it be?
Michael Jackson's Thriller. We tried to learn it on a cruise and failed miserably.
What do you do with 30 minutes of free time?
Wrestle an alligator.
What do you want to be when you grow up?
Wait. What? We have to grow up?
 If gifted an all expenses paid vacation to anywhere where would you pick?
Ashley: Italy. The shoes. The art. The food. How can you lose?
Jamin: Tahiti. The diving. The ocean. The hammocks. Catch ya on the flip side.
What's in your purse?
Ashley: My wallet, a bunch of misplaced receipts, and half eaten snacks from our kids. Maybe a couple of ants. Jamin's purse is more organized than mine.
Head on over to get to know this hilarious and delightful couple a little better :: Website /// Twitter /// Facebook