The Christmas Season is upon us, and if you're as excited as we are to already be digging into Ann Voskamp's book on Advent, "The Greatest Gift," raise your hand?!  Really though, during this season as we gather around the manger to celebrate God's greatest gift to each of us, we want to encourage you to gather around homes all over the world to celebrate the gift of friendship.
SO we're trying something new here with Allume (which explains why we're a little behind on getting you the information…figuring out the technical stuff always trips Logan up!)  We all enjoyed so much making friends through Allume both online and at the conference this past year, that we think once a year just doesn't seem like enough chances to put faces and avatars together.  And because a conference takes a heap of time to put together and gets hard to travel to sometimes, we thought we'd begin to create reasons to gather with other women in your area throughout the year.
SO…we're partnering with Mary & Martha to bring you the first ever
on Thursday December 12th!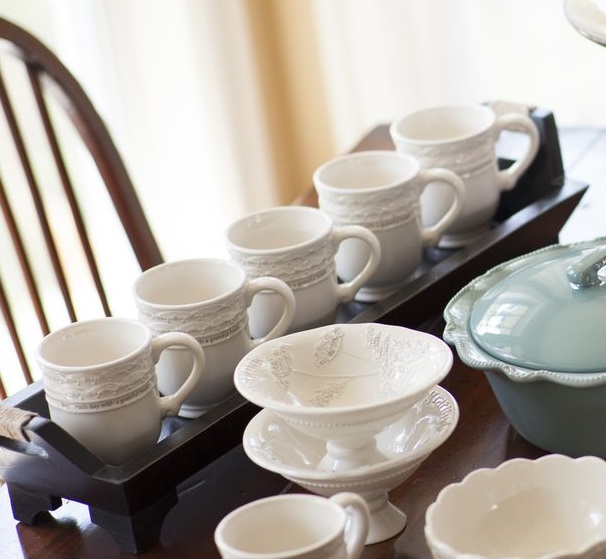 This is your chance (if you were looking for a reason) to gather Allume friends together in your area! Grab friends new and old and let's celebrate this Christmas season together on Thursday, December 12th!
Our 2013 conference sponsor, Mary & Martha, will send the first 25 hostesses to sign up a bag of their signature coffee, and each hostess participating will be entered to win the lovely tray with 6 coffee mugs pictured above (2 available)!  Feel free to vary the time if you prefer a morning, afternoon, or evening meetup, then just make sure you note it when you sign up to host a gathering in your area! Logan will be hosting at 8pm in Greenville, but you might prefer 9am…just do what feels right for you!  And if having people to your home freaks you out, but you want to get together, then pick a local coffee shop to host!  The point isn't what it looks like when you do it…just that you gather!
So put some coffee on, bring a goody to share with you, and let's celebrate the Christmas season together, Allume Style! So whether you've been to the conference, wanted to come, or just peeked around online, we want to invite you to join us as we celebrate friendships around the greatest gift born to us in a manger!
Love,
Logan and Sarah Mae