Today, we are sharing with you the final 3 Impact Opportunities with the following partners that will be taking place at the Allume Conference on Saturday afternoon, October 26th!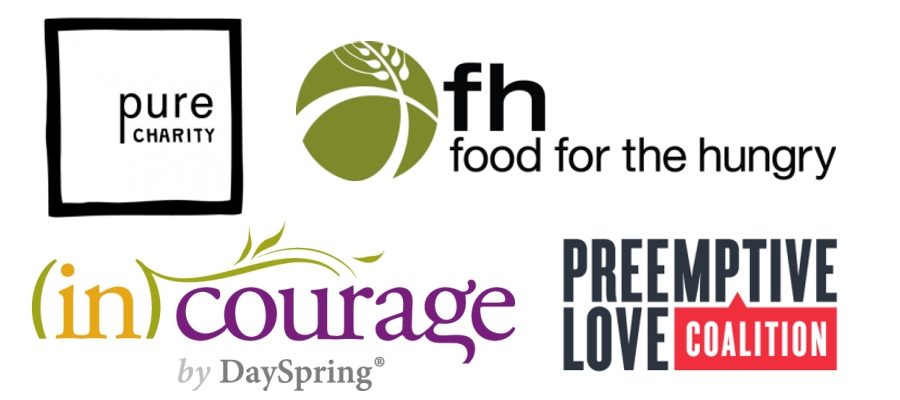 You will have the chance to sign up for the ONE that peaks your interest most at the end of this post! (The sign-up link will also be added to the bottom of each previous Impact Opportunity post as well in the Conference/Super-Fun Sign-ups tab on the Allume navigation bar, and in a link on the sidebar!) Remember, there is limited space in each opportunity, so sign up quickly to make sure you reserve your spot!
The Impact Opportunity sign-ups are available to conference pass holders only and will take place from 2:30 – 4pm on Saturday afternoon of the conference!

Using Your Influence for Good
Join Mike Rusch (
Pure Charity
) & Lindsey Nobles (
Food for Hungry
) as they work with you to help form and shape your strategy of rallying your community for good.  They will provide real world insights that result in tangible ways that your influence (large or small) can be used make an impact in the lives of others.
During this time you will have the opportunity to discover how your passions align with your ability to make a tangible impact in someone's life, develop a customized communication and fundraising strategies for your community, and receive practical training on how to build online advocacy groups to maximize your communities impact.
Pure Charity is a community of people dedicated to inspiring and encouraging a movement of generosity.  Pure Charity empowers you to promote and support your favorite nonprofits, create personal fundraisers for adoptions, missions, and travel, and affect change for the vulnerable around the world.
Food for the Hungry (FH) is a Christian organization serving the poor globally since 1971. We reflect the love of Christ in short-term emergency relief and long-term development. After natural disasters, FH responds to help shelter, feed and clothe survivors. Over time FH begins working towards long-term sustainable development, transforming impoverished communities into healthy, productive places for children to grow.

It's time to channel your inner passion for snail mail and come and join (in)courage as we write love notes that will be traveling as far away as Kenya and as close as around the corner here in Greenville. DaySpring will be providing cards and small gifts of encouragement for you to personalize with messages of hope and encouragement to remind some of our sisters in Christ trapped in the worst kind of abuse that they are, indeed, beloved and not forgotten by their Father God.
Your love notes will be delivered to the teenage moms of Mercy House Kenya, a home providing care to young girls who've become pregnant after being forced into prostitution in the slums of Kenya. Because of the safe haven of Mercy House there are 12 babies growing up healthy and happy who would likely not have been with us otherwise. Other love notes will be delivered by local organization Switch 42:16 to women currently involved in or escaping the sex trade right here in Greenville.
Join us from 2:30 – 4pm on Saturday at Allume as we hear from the directors of both these ministries and write message of Truth reminding our sisters that in God's heart they are Created (I praise You because I am fearfully and wonderfully made. Psalm 139:14), Chosen (The Lord has chosen you to be His treasured possession.Deuteronomy 14:2), Celebrated (He will take great delight in you…He will rejoice over you with singing. Zephaniah 3:17) and Cherished (I have loved you with an everlasting love; I have drawn you with loving-kindness. Jeremiah 31:3).
As bloggers we all understand first hand the power of words. Come and spend your time and your words capturing the heart of our God for His daughters. Your notes and gifts will be delivered by hand to women who've forgotten that love is a free gift by the God who first loved them. Come and be part of the reminder.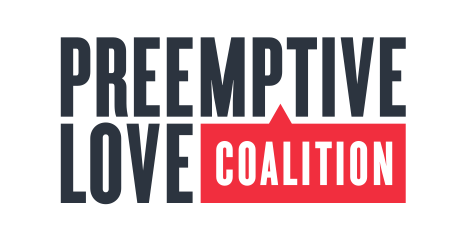 Preemptive Love Coalition works to remake worlds through surgical healing.  Rather than the knee-jerk lifestyle of risk-management and safe discipleship, PLC jumps first into situations of conflict to create space for peace, reconciliation, and generosity. Rather than preemptive war, which strikes first to avoid harm to self, preemptive love strikes first to remake the world through love.
We do this by providing lifesaving heart surgeries to children in Iraq and training local doctors and nurses to perform these surgeries on their own. Iraq has a tremendous backlog of 30,000+ children in need of heart surgery.
During Allume's Impact Opportunities, we hope you will join us to make therapeutic fleece heart pillows to help these precious children recover following their lifesaving heart surgeries. These pillows reduce the pain of breathing and coughing, which is central to the post-op healing process. And in addition to pain relief, they will also know they are loved and cared for by you, Christians halfway across the world with big hearts.
We will also be writing "get well soon" cards to accompany each pillow, to give you an opportunity to tell these children how much they're loved, cared for and prayed for. We are looking forward to seeing you at Allume and hope you will join us!
And now….you can SIGN UP HERE for the opportunity that gets you most excited!  If that one is full, pick your next favorite…and so on and so forth!  The truth is, they're all gonna be awesome!  Make sure to only choose ONE though as they will all be happening simultaneously!