When I first started blogging, I often heard," Don't compare your middle to someone else's end."  This was usually said at conferences by bloggers with platforms, RSS feeds bursting with subscribers, and years of experience being social media ninjas. As someone just starting out, I'd look at my one or two comments and think, I'm just not there yet, with yet being the operative word.
If I'd started in 2006 when the competition and noise on the internet felt more like the mingling at a cocktail party than an olympic stadium with the roar of the crowd drowning out the clacking of my keys, then I'd be further along too. I'd scribble the line in my notebook, or tweet it to my 25 followers, nodding my head because everyone knows comparison in blogging will make you . Once you go down that path, you may as well break out the duct tape to gag and bind yourself, because it's pretty hard to write authentically while trying to replicate someone else's success.
So I'd plod along faithfully, wrestling contentment down with each post, imagining when my "end" would come and I'd have arrived. When I could count myself a writer. Maybe get a book published or reach a certain number of subscribers. When I'd be the one dispensing anecdotes about the good old days of blogging and tips for building your platform. I'd dream of a time when my voice would matter.
 We often think of growth as a linear thing.
We back kids against door frames and etch pencil scratches along the years as the tops of their head stretch upward from chubby thighed toddlers to gangly teens. Failure to thrive would be, well, failure.  We think of growth as the raise you get after each faithful year on the job or the beater car with the tricky alternator that turns into the minivan or new SUV as each new child comes along. The dorm room of your college years to the 4 bedroom 3 and one half bath home with the wrap-around porch.  Growth means bigger, and bigger means better.
But what if growth isn't always linear?
What if my end never looks like theirs because my journey isn't taking me in that direction? What if growth was less about replicating and more about ripening ? Less about measuring up and more about pouring out?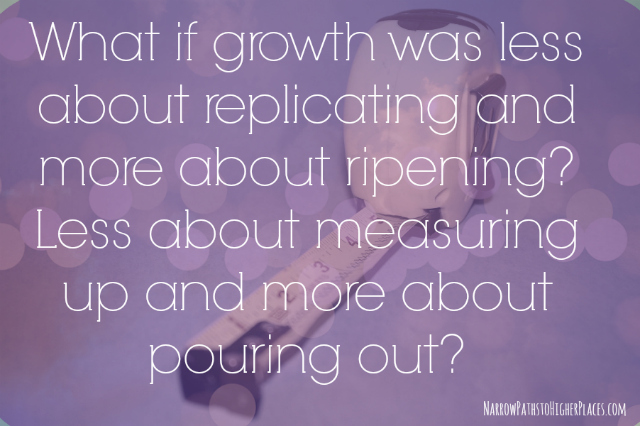 Because lately, I've been looking down the road and I don't see the horizon brimming with the things I once thought I was headed for. Even the things I thought I wanted. And I'm realizing there is a great freedom in that. That in my corner of the internet, my words are enough, no matter how small.
I feel a collective pull of my writer friends, back into their lives, to write what they love, not just what gets tweeted or shared. There is a dedication to the seeking of words and story and truth that all writers wrestle with, but there is a calm too.
So many of us, who started with God sized Dreams of doing the big things, have learned that God works those out in the small things. That growth often comes in the deep blush of fruit swollen and ripe, and not just the arching branches seen from miles away saluting the skies. It comes in tiny rings spreading modestly across a trunk year after year, no more than the width of a fingernail. It comes in pruning season and it comes in harvest. It comes in roots grown wide and long under scorched earth, seeking out water and life and bedrock with which to sustain it's might.
We don't always see it. We just sink our teeth in, letting the juice gush lavishly down our chins, we taste and know it's good.