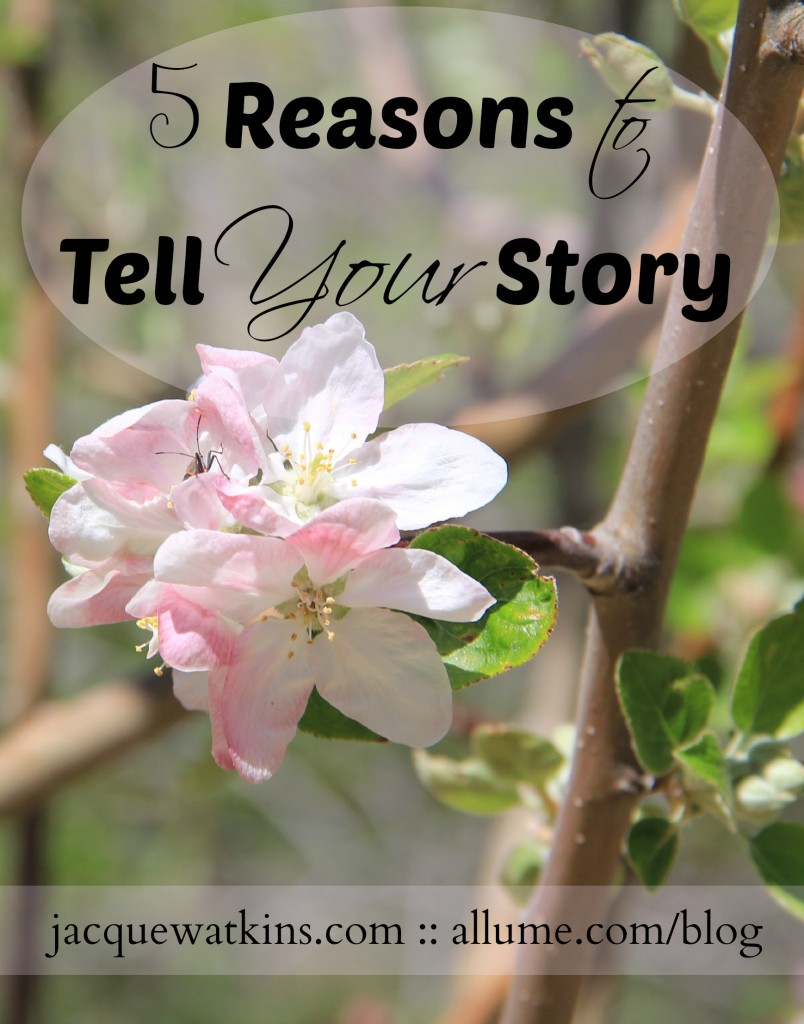 **Loving all
Kris shared yesterday
and echoing her thoughts even more today, as I already had this post in store for you without even knowing of hers. With a synchrony of hearts we share a united message … and I'm just loving how God does that!  
Our stories hold power. Where we've been. What we've faced. How we've been hurt, and how we've failed. They all shape who we've become. And our stories can change the world.
I'm still amazed after sharing my story how many contact me. In the midst of a desperate place, they send an email, type a message, or give me a call. And without fail, I'm often one of the first people they choose to reach out to, because until now they've felt all alone.
In some God-appointed way they found me. And because I shared my story first, they feel safe to reach out to me with theirs.
Some are discontent in their marriage, feeling alone and afraid,
Some have inappropriate emotional attachments and don't know what to do,
Some were betrayed by their spouse–full of deep hurt and overwhelmed with pain,
Some are wrestling with an affair, which is burying them with guilt and the shame,
And some have friends facing pornography addiction, ongoing infidelity, or divorce, and want to know what they can do to help.
It's a humble privilege to walk alongside someone in the midst of crisis. They offer me chances to speak wisdom and whisper words of hope to their hearts, in the midst of very personal and sometimes dire circumstances.
When I dared to show up, bare my heart, and tell my story, I asked God to use it in ways only He can. And because He is faithful, He continues to bring opportunities to me–amazing and humbling divine appointments. And in His lovingkindness, He has used even me, to help others in the midst of their mess.
Your mess can become your ministry.
No matter what you've been through in your life, we need you, and we need your story.
Because there is someone out there who feels lost and alone,
Someone who feels discouraged and beyond hope,
And someone who is believing the lie that they're the only one facing the difficulty of their situation.
As you consider the story God has woven within your life, I offer 5 reasons you should tell your story.
5 Reasons to Tell Your Story
1. Telling your story will help you heal
Sometimes our stories are too fresh and new to share. Because we are still healing. There may be unresolved issues or damaged relationships limiting the freedom of what we can divulge.
At one point this was true in my own life. And it was more than a decade before I unfolded my story publicly–more than a decade of processing, healing, and restoration in my life.
As you consider telling your story, perhaps it's time to begin to pursue some resolution. And maybe, as healing gains momentum in your life, writing your story will be the tool God uses to complete the healing He longs to do in you.
2. Telling your story will help us know we're not alone
People in crisis feel alone. I know I did. I was hurting and wounded, ashamed and afraid. I sought someone, anyone, who even hinted at being capable of understanding what I was facing. And few were available.
When you tell your story, the one of the road you've travelled, we will be reassured as we realize we're not alone. Your story will shatter the secret place where we're hiding. And it will open a door, inviting us to join you in a new room–a room of transparency, authenticity, and freedom. Our heart will be free, and your story will empower us to be brave enough to tell our story too.
3. Telling your story will give us hope
It still amazes me that every time I tell my story, someone tells me it gives them hope.
Hope to have more courage.
Hope to be more brave.
Hope to face the pain.
Or hope to know someone understands.
Within everyone's story is a mirror of hope. And when we hear your story, the reflection we see will captivate us. We'll grasp for the hope you offer in a desperate attempt to hang on. We'll witness how you survived, how you endured, and how you were changed. And as we do, we'll see a glimpse of light beyond our current darkness and the possibility of joy beyond our silent pain.
4. Telling your story will offer us insight
There were many days I had a limited stance and a warped point of view, because it's difficult to see clearly in the midst of a mess.
Pain blinds us from truth, and suffering limits our perspective.
And that's why we need you. Because you've already been where we are. You understand our struggle and relate to our crazy feelings. As you tell your story, we'll see your mistakes and take note of your breakthroughs, and we'll trust you because you trusted us and let us in. We have much to learn from you, and as you share your insight and wisdom, it will help with ours.
5. Telling your story will bring God glory
God created us to bring Him glory.
He is our Redeemer and Restorer.
A God of grace.
And a God of mercy.
And as He works in our lives we are evidence to the world of His great love.
As you tell your story, we'll witness the way God redeemed and restored your life. How He took your pieces and made them whole. And we'll believe He can make ours whole too.
As we hear His story in you, no matter how traumatic your tragedy or profound your failure, it will bring God glory, as you give thanks and tell of all He's done in you. And I can't wait to hear you share!
With love and cheers from afar,
Jacque of jacquewatkins.com
Have you ever dared to tell your story?
What happened when you did?
Tweetables:
Your story shatters the secrets I'm hiding & makes me know I'm not alone. [Tweet that]
As God works in our lives, our stories are evidence of His great love. [Tweet that]
Your story offers a mirror of hope for us to grab hold of, and hang on to today. [Tweet that]