Today is my first day back from a two week blogging sabbatical of sorts.
In December of 2012, I wrote and launched my first eBook. It was a big undertaking, but so rewarding. I've loved every part of it. It's proven to be so helpful for so many, and I am blessed by that!
Then, in February of this year, I finished my first book and sent it in to my publisher. That was a much bigger undertaking. The deepest parts of my heart, my soul, and my story poured out in 30,000 words.
I was drained after that, emptied of words. Still, I kept blogging. But I found myself lost, my message cloudy, my voice distracted.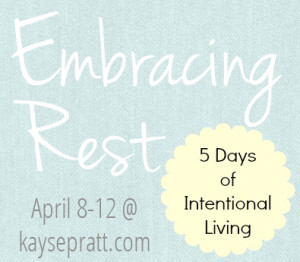 After such an emotionally intense season of writing, I heard God whispering rest to me. However, I am often guilty of halfway obedience, so instead of really resting, I just cut back on the writing. Three posts a week instead of five.
Still, a cloudy message and a distracted voice.
Also? A burned out me.
It took a teary conversation with my husband for me to be able to understand what God had been asking of me. Rest. Full and complete rest.
That meant no writing, no words at all.
And I panicked.
To take a complete break would mean a serious decrease in pageviews. A drop in followers. What if people left and never came back? What if they no longer took me seriously because I took a break? What if everything I had worked for came crashing down in two weeks of silence?
In asking myself those questions, and working through my panic, I realized why I so desperately needed a break.
My focus had shifted from His message to my numbers. I had gotten caught up in followers and subscribers and pageviews and link-ups and all of the things we are "supposed to do" in order to grow our ministries.
His message got lost. My voice got lost. And if I was honest with myself, it had been a while since I had written anything of quality.
That's not the kind of writer I want to be. That's not the kind of Jesus-follower I want to be.
When I write, I want to write the words He gives me. I want to use my voice to say the things He wants you to hear.
I want to do it because writing for Him makes me come alive. Writing for numbers wears out my soul.
So I took a break. I let my readers know what was going on.
Their responses blew me away. Comments and emails of encouragement, promises to be there when I returned, offers to pray and lift me up.
It was so incredibly freeing. So encouraging. Such an affirmation of the rest God had called me to.
This break, it has given me time to clear my head, to process deeply, to pray about my writing and the direction God has for me. And you know what? It doesn't look like a million link-ups and book launches and strategies for building my numbers.
It looks like honest writing, a clear message, and rest.
I'm learning that good art requires rest. Creativity is choked out by busyness. We were created for rest, called to it. If we want to be the kind of people that write words of worth, we must embrace the call to rest.
All week long, I'm writing about rest over at my blog. I'd love for you to come visit, read along, and join in the conversation. Not because I want your page views, but because I believe this is the message I've been given. And maybe you need to hear it, too.
How do you find rest as a writer? Do you find it a struggle to refocus on the message instead of the numbers?