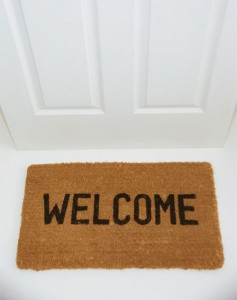 Friends, Allume is less than a week away, and I am SO looking forward to seeing so many of you!  Please…run up and tackle me with hugs!  I promise I won't think it's weird!
Sarah Mae very generously dubbed me the Allume "hospitality artist" months ago.  As we've all been working on various parts of the conference, and my job is particularly hospitality oriented, I thought I would share with you all what hospitality means to me…and more importantly, what I believe it means to Jesus.
I could honestly go on and on about biblical hospitality, and in fact have enough notes and research to lead an entire study on it.  I'll spare you the months worth of info for now though and tell you this:
Hospitality isn't just a spiritual gift given to some.  It's more than being able to throw a fabulous party too.  True biblical hospitality is a demonstration of love for others.  And before you say you aren't good at it…you should probably note that it's pretty much a requirement for all believers.  We "practice" hospitality because we can always improve upon loving others well.
In case you were wondering, the word hospitality comes from the Greek word philoxenia which means, "Love of strangers."
I love the verses in Hebrews 13:1-2 that say "Let brotherly love continue.  Do not neglect to show hospitality to strangers, for thereby some have entertained angels unawares."  Perhaps as exciting to me as the idea of literally entertaining angels is the phrase, "let brotherly love continue."  Part of the way we show hospitality is just to continue to love one another!
All throughout the gospels we see examples of Jesus and the disciples coming into a city and being "received" into the homes of the believers there.  And then there's the story of Mary and Martha in Luke 10…one woman all heart, and one hyper-disciplined…exemplifying that our hospitality should be a combination of service, loving, and giving of ourselves to one another.
Romans 12:10-13 says, " Be devoted to one another in love. Honor one another above yourselves.  Never be lacking in zeal, but keep your spiritual fervor, serving the Lord. Be joyful in hope, patient in affliction, faithful in prayer.  Share with the Lord's people who are in need. Practice hospitality."
One of my most favorite passages regarding what it means to be hospitable is in Acts 28.  Paul lands at Malta when he is blown off course in one of his missionary journeys.  The natives welcome him, and a man named Publius entertains him for 3 days in his home.  It even says that the natives showed "unusual kindness."  It just so happened that Publius' father was sick with dysentery and so while he was there, Paul visited him and prayed for his healing.  The Lord healed him, and then the rest of the people on the entire island who were sick came and were also healed.  When Paul left Malta, they supplied everything he could possibly need for the rest of his journey.
Did you get that?!  Random unexpected guests get welcomed in…and for THREE days at that?!  Before Paul's time there is done, an entire island's worth of sick are healed.  And… the biggest thing that the Lord has continued to impress upon me, is that when we usher in an atmosphere of hospitality, the Lord is pleased and we suddenly see Him show up in power.  We honor the Father when we honor one another, and as a result, he breaks out unexpected blessing right back onto us!
So here's what I want to say about all of this hospitality in regards to Allume.  We've all been working our little tookis' off to make sure that the upcoming conference is fantastic.  We've crafted, and dreamed, and created things to make the environment lovely.  The meals have been carefully selected to be delish (and will actually include some green vegetables this year)!  The space is well thought through, the gift bags delightful, and the i's have been dotted and the t's crossed.  But once we're all there….let me say that those preparations and details will take a back seat to the fact that all of your lovely faces will be filing through the doors.  Because loving people is what true hospitality is about.
So don't be surprised when the presence of the Lord descends in a mighty way as you are ushered into the conference.  Expect to be loved on, and expect to be blessed.  And just as Paul was refreshed from his time spent receiving the hospitality of Philemon (in Philemon 4-7), so we pray that you will be refreshed from your time at Allume.  And so friends, it is our desire that our time together at Allume will be marked by true biblical hospitality….of loving well both strangers and friends.
See you soon!