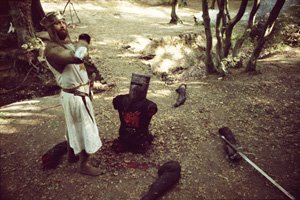 Friends,
Allume is done!  And oh my words was it fun!!!  I am truly humbled and grateful for the opportunity to serve all of you, to laugh with you, to eat and fellowship with you, and to encourage the things that the Lord is doing within this community!  Oh MY WORDS….I am beyond blessed to be a part of this incredible event and group of women.
I totally meant to have this post up last night or first, first thing this morning, but let's be honest….I was so stinking tired and I'm just kinda banking on a little bit of grace from you all!
I don't have a single picture from the entire weekend either….so our lovely picture above is from a completely impromptu word the Lord gave me during my breakout session.  Don't ever underestimate the power of God to use even Monty Python for his glory!  And for those of you who missed the reference (and thankfully for me….the live impersonation of it), here's what I want to say to each of you:
We are all parts of one body, and if we don't operate out of the giftings that the Lord has given to each of us….then we become a useless trunk of a body….paralyzed by ineffectiveness at the job we've been called to do as a whole.  This is a community chocked full of phenomenal giftedness in different areas, and I couldn't be more proud or excited to see how our Father will use our time together this past weekend to impact the world!
So a few fun takeaways that really stuck with me….
Grow your passions, and that will grow your blog.
Live your real life, not just your virtual online one…
You're not just generating followers….you're making disciples.
Get low and let your brokenness heal you.
And always….ALWAYS….eat your mudcake without a fork!
Love you all!
You can link-up your Allume posts here!