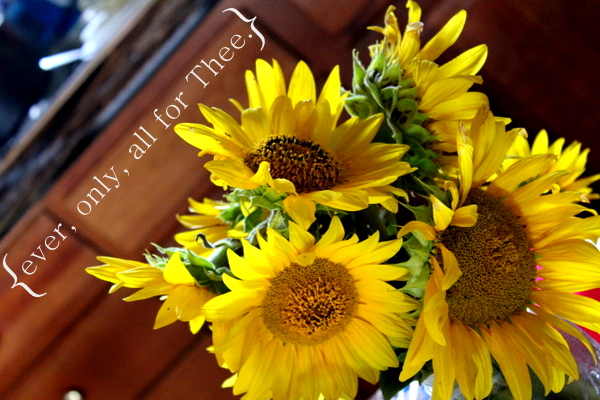 Sunday dripped joy and sorrow. 
The testimony of dear Kay, who experienced a brain aneurysm two months ago– the testimony that pulses with miracles. 
How she was at a ballgame when an eighteen year old boy, Calder, was knocked unconscious and an ambulance was called but two came. How the Lowville Hospital purchased a second helicopter just weeks before. How the aneurysm happened just after Calder was taken to be airlifted. How she was receiving medical care by the second ambulance crew within five minutes. How she was also airlifted and placed under the care of doctors and nurses who were able to stop the bleeding. How Calder went home the next morning with nothing but a softball-sized headache. 
It was a miracle, a series of miracles– and today, two months later, she is 100% healed. No medication. No headaches. And her husband's voice trembles with the glory of it. 
Then another couple speaks and everything clenches. "He would have been twenty-seven today." I don't know them but I listen as they talk about their son, Travis. I don't know the story but I can taste the pain in their words. Their voices thicken with tears and I share in the sorrow. 
Joy and sorrows intertwine in life. 
The mother who buried a son asks for a hymn to be sung. My fingers run over the words on page 358 and tears prick as my voice joins hundreds–
Take my life, and let it be consecrated, Lord, to Thee.
Take my moments and my days; let them flow in ceaseless praise…
Take my will, and make it Thine; it shall be no longer mine.
Take my heart, it is Thine own; it shall be Thy royal throne.
Take my love, my Lord, I pour at Thy feet its treasure store.
Take myself, and I will be ever, only, all for Thee.
Every day I am given something. It may be joy. It may be sorrow. It may be a free moment to sit and write words of worship. Whatever the moment, whatever the gift– am I using it to bring glory to Him?
My prayer is that writing my blog will never become something I do to bring myself attention or praise. I want it to be for Him. I want to write because it is the thing I have today to bring Him glory.
This is also my prayer for each of you–that this community will be filled with voices singing the same song, 
"ever, only, all for Thee."
By Natasha, Embracing the Miracle