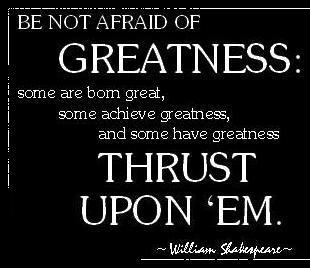 Three times over the past month I have heard the phrase "call out the greatness" used with regards to building others up.  Once it was in the context of marriage, once in reference to training our children, and once regarding other churches within the body of Christ.
Third time is a charm… but being the obtuse individual that I sometimes am, I have finally caught on that there's something the Lord has for us with this idea.
Calling out the greatness in others
Marriage is hard.  Anyone who'd tell you otherwise either still has on the rose-colored glasses of early marital bliss, or is lying.  One of many places where we are challenged and learn to die to selfishness in our lives, marriage puts pressure on ourselves and on our spouses.  We all bring a suitcase or two of baggage into it, and sin and flesh whisper deficiencies into our ears….shortcomings of our own and of our beloved's.
And child rearing…training…raising…  The only people who seem to know all the ins and outs of raising perfect children are those who've never actually raised any.  It's hard.  It's a blessing.  But again….selfishness creeping around every corner, expectations of behaviors and attitudes that should be….it can be a sticky place.
Let's talk too about the church itself…ourselves.  The judgements we all hold deep in our hearts, if we're being honest, about even other believers.  That church is so showy, that one is too rigid, those people have too much freedom, some put God in a box, and others don't seem to have any boundaries.  You know what I'm talking about….we've all thought it.  Self righteousness telling us that the way we know church to be is the only right way.  We nit pick other denominations, and choose sides, and in doing so, we weaken the whole body.
But what if in marriage, and in raising kids, and in living truly as one body of Christ, we call out the greatness in one another instead of focusing on the deficiencies and differences?
What if, instead of nagging our spouse about being such-and-such kind of leader in our marriage, we begin to call out the things he does well?  What if instead of complaining that he never cleans up the dishes, we randomly speak life into him about how proud it makes us to see him work diligently on the yard?  And, instead of moaning about lack in some area, we make efforts to promote him for the places where he excels?  What if he's impatient, so we begin to speak patience into his life…and pray patience over him?  What if we call out the fruits of the spirit in our spouse….call them into increase and greater existence?
With our kids…it's the same thing?!  Instead of chastising my son for antagonizing his little brother, how might things change if I heap praise upon him for his gift of making others feeling important and included?  Instead of calling a child bossy, what if we instead recognize and cultivate the hearts of young leaders who learn to take charge with Godly purpose?  Instead of pushing the shy into uncomfortable places, let's honor the humility and meekness.  Let's speak into our children the life-giving virtues we pray so diligently for them to posess.
And the church…let's definitely not be remiss on this one.  Instead of comparing the virtues of expository teaching versus spirit-led storytelling to choose the greater, let's honor each place and person for the giftings each posesses.  Instead of thinking that one place has it figured out better than another, or getting caught up in minor rib issues, let's applaud what each different body does well.  Let's be thankful that those who need deep expository teaching have the option to get it…and not to be forced into a sound and lights production on Sunday mornings.  But by the same token, let's honor those places that may be more "seeker-friendly" for their ability to draw people in and create an environment of comfort as they ease newcomers into understanding of life in Christ. 
Shakespeare was right…"Be not afraid of greatness: some are born great, some achieve greatness, and some have greatness thrust upon them."
As believers, we cannot be afraid of greatness.  According to Christ, we are born great….we are the workmanship of the God of creation.  We achieve greatness the closer we get to Jesus.  And, greatness has been given to us through faith in Christ, so let's walk that out as we thrust it onto others.
Let us be a people who love…and in love, we speak life, we give life, and we change lives. 
Let's call out the greatness. 
So if there is any encouragement in Christ, any comfort from love, any participation in the Spirit, any affection and sympathy, complete my joy by being of the same mind, having the same love, being in full accord and of one mind.  Do nothing from selfish ambition or conceit, but in humility count others more significant than yourselves.  Let each of you look not only to his own interests, but also to the interests of others. – Philippians 2:1–4
Let each of us please his neighbor for his good, to build him up. … May the God of endurance and encouragement grant you to live in such harmony with one another, in accord with Christ Jesus, that together you may with one voice glorify the God and Father of our Lord Jesus Christ.  Therefore welcome one another as Christ has welcomed you, for the glory of God.  – Romans 15:2, 5–7