photo courtesy of thanker212
Every once and a while I will see a blogger post a stream of consciousness post.  Most of the time I will read them, however when a blogger starts putting up five or six posts like this in a week or two, well, then you just know that they don't have the time or don't want to take the time to write well.  Obviously the exception would be if there was a family member in crisis or something like that.  On those occasions, good writing is exchanged for the necessity of relaying information and I understand that, but for most of us, a stream of consciousness post serves a different purpose.
Yesterday I wrote about brainstorming–depositing the swirling vortex of ideas that is our mind onto paper for the sole purpose of hashing out what we should write about and how to group things into posts.  Today we're talking about that time.  You know, the time you sat down at your computer screen and didn't feel like you could form a coherent thought, but knew you had to put something down because the tornado of words is just dying to be imprinted onto paper.
Allowing yourself to solely write without hindrance or worry can be extremely cathartic.  It also can help you break down the barriers of perfectionism.  You know, that aching little feeling that tells you that you need to weave the entire story prior to sitting down and penning it?  That feeling is lying.  The only way your story will ever be read is if you sit your rear down and write the worst version you've ever written.  At that point there's nowhere to go, but to improve.  That, however is a whole separate post.
Posts that follow our stream of consciousness also allow us to work out certain issues or perhaps allow us to find that we were mulling over something we didn't even know was there.  This is especially true for women because all of our brain is intertwined….or so I've been told.  That's why one minute I'm talking about my great-aunt Naomi and the next I am thinking about Croghan Bologna and cheese curd.
While many times these posts are "unedited", I would at least encourage you to check for spelling and blatant errors.  I'm not saying you need to change words or tense or make it more colorful, I'm just saying if you wrote your, but meant you're, please just fix it.  Here's my stream of consciousness post, just for you.
Today's Challenge:  Write a stream of consciousness post.  All of you are wonderful writers so I know there will be no shortage of words.  Remember, don't pretty this up too much, just check for gross spelling errors and such–ie. don't use ain't unless you are speaking in a particular vernacular that would make it appropriate.  After you're done, come chat about it in the Facebook Group.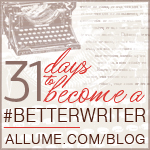 We're more than halfway through, but it's never too late to subscribe to our feed and have our posts delivered directly to your inbox for free via e-mail or RSS.