The first year I attended Allume, I only knew one person. That person kinda ran the whole thing though, so she had her hands full. I knew myself well enough to know that if I didn't just jump in there and force myself to meet people, I would stay on the outskirts of the whole conference taking it all in, not really making significant steps towards making new friends. So I forced myself to get involved.
Volunteering seemed like a simple way to slide into the community with ease, make friends while working together, accomplishing a task for the same purpose. So I volunteered to help at registration.
Helping at registration, I had the joy of meeting other volunteers, but also enjoyed greeting other nervous first-timers as they walked in with the deer-caught-in-headlights-look. It was a joy to greet them with a warm smile, help answer their questions, and encourage them in their decision to come! By the end of my shift volunteering at registration, I had made some new friends, and had interactions with people who I wanted to follow-up with later. It helped me accomplish my goal of stepping outside of myself and meeting new friends.
Being on the flip side now, as part of the Allume team, I now realize how critical volunteers are to the entire conference! Without volunteers, it couldn't happen.  Your support is critical and we are excited to pull together the vision He's given, together!
So here's how you can volunteer…
Swag Bag Stuffers
Come join us on Wednesday, October 14th for a few hours of Gift Bag stuffing! Our A-M-A-Z-I-N-G Sponsors give some pretty incredible gifts to Allume attendees, and we've gotta get each bag stuffed! Not only will you get a peek into the amazing swag bag you'll receive with your conference pass, but you'll too have fun chatting and dancing with other volunteers! We're gonna party hard as we get this job done, and we'll have fun making new friends while we're at it!
Set up/Clean up
Making the Hyatt Allume-i-fied is no joke! Last year Logan's entire living room showed up on stage, and did you notice all that incredible decor at registration and throughout the vendor area? That doesn't just pop up via fairies! We need help making it gorgeous! Come use your organizing, decorating, and even your clean-up skills to make Allume sparkle!
Registration
Are you fun, smiley, and encouraging? Then we want you! Registration volunteers will assist attendees by checking them in and handing out name tags! Warning: You may hear high pitched squeals as you hand each attendee their swag bag!
Prayer Room
Do you have a heart for other women and for prayer? Do you want to pray over and encourage other attendees as they need it? We need volunteers in the Prayer Room who can pray with other attendees as they need it, as God stirs their hearts.
You don't have to be a seasoned Allume attendee to volunteer. Come as you are, all are welcome, the more the merrier! Leave a comment here on the blog if you have any questions!
Sign up to be a volunteer at Allume here!

If you're attending Allume, there is a pretty decent chance that you're interested in being published. Maybe you're not completely serious about it (with book proposal in hand), but you may have at least thought about it before. Well, did you know that it is legitimately possible for you to land a book-deal while you're at Allume? It's happened before. Check out this story from last year!
At Allume, we've partnered with some of the most incredible publishing houses in hopes of connecting them with YOU! This year we'd like to make that process a whole lot easier too!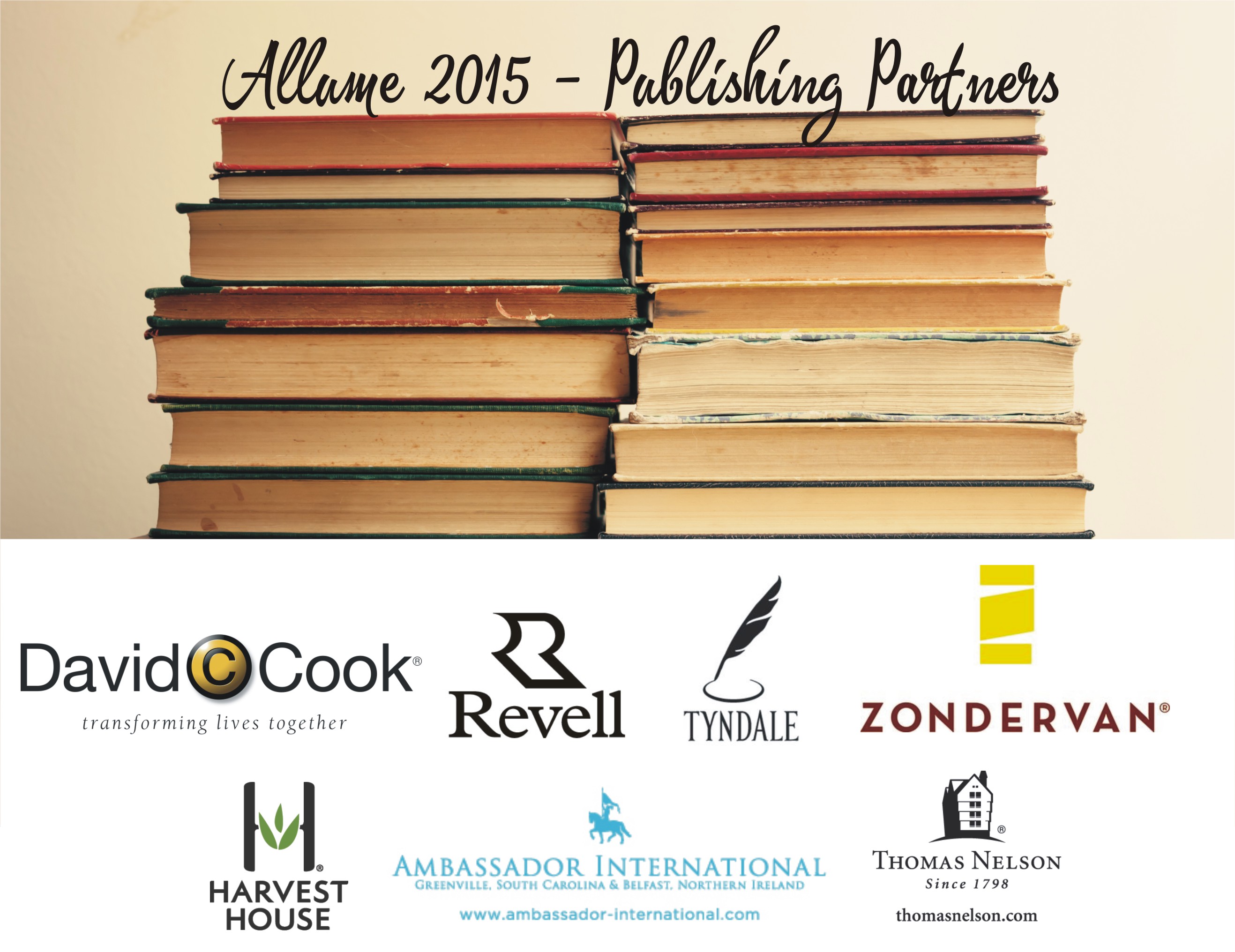 This year you can sign up to meet with 3 publishing houses of your choice!
Now it is incredibly important you realize that there is no guarantee you will have any meetings. We will simply be your match-maker ;). We will introduce you to them, and if the publisher is interested in you, they'll reach out and set up a time for you to meet while at Allume.
**You must have a conference pass and be attending Allume.
Feel free to leave a comment if you have any questions!
Sign up to meet with a publisher here! 
Enter the Giveaway!!