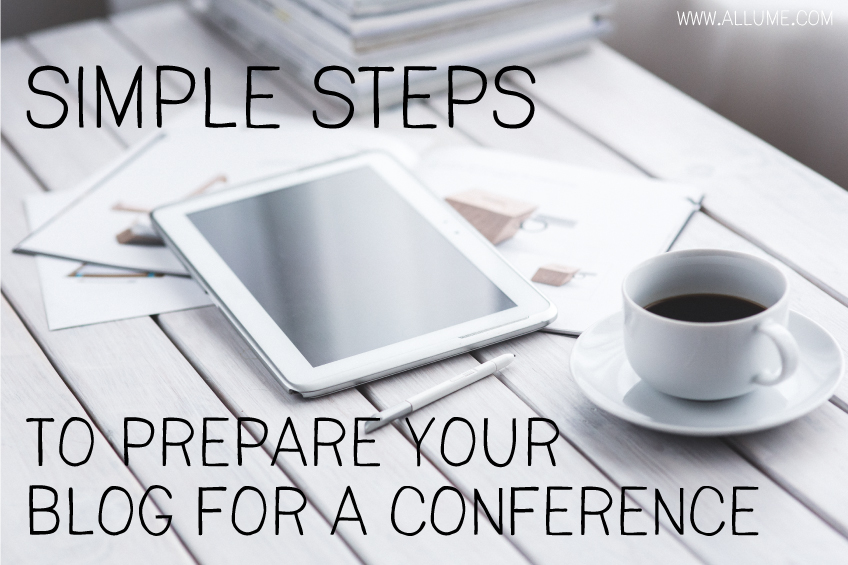 For many bloggers and writers, attending a conference is one of the highlights of the year. It's an opportunity to deepen the online friendships you've made, make valuable connections, and be refreshed and encouraged.
There's plenty to do to prepare for a conference—purchasing tickets, arranging travel, choosing outfits, and planning to make sure everything is all set for your family while you're away. Those are things you probably won't forget to do.
Don't forget to prepare your blog, too!
You'll be meeting many people for the first time, and they're likely to stop by your site during or after the conference. It's important your blog is ready for these visitors. If it is, you're more likely to make a lasting connection when they stop by.
There are some simple steps you can take to help get your online home ready for new friends.
Start with your About page.
If you're anything like me, writing your About page is almost akin to torture. It's challenging to find the right balance of sharing who you are without sounding like you're bragging, but crafting quality About page content is always worth the effort. Your About page gives context and weight to the rest of your writing.

So what should you include on your About page?
Your Photo
Your visitors are more likely to become regular readers and listen to what you have to say if they can see your face and connect. If you don't have a photo you love, just use the best one you have for right now.
Your Bio
Tell your visitors who you are and what your site's purpose is. Give them information, but don't forget to let your personality shine through!
Want to read more? Here are some tips for developing a great bio.
Make it easy for people to connect with you.
Do you have a contact page on your site? If not, I highly recommend one. A simple email contact form is a great way for your readers to be able to get in touch with you.
Make sure you have social media icons that link to your profile page on your favorite social media sites. These icons should be placed in a very visible location on your site.
Don't feel like you have to include every social network! Choose only the ones you want use on a regular basis … there's no point in encouraging someone to follow you on Google+ if you haven't posted there in over a year. (Yes, I'm talking to myself on that one. 🙂 )
Before the conference, check all of your social media icons and make sure they're linking to the right place! It sounds silly, I know, but I have visited many sites where the links either didn't work or linked to the incorrect page.
Make it easy for readers to subscribe.
When your new conference friends visit your site for the first time, hopefully they'll like what they see and want to sign up to receive your blog posts. I recommend MailChimp or Mad Mimi for email subscriptions.
Clean up the clutter.
Lastly, take a good look at your site. You don't want unnecessary clutter scattered around your house when someone comes to visit. Think of your blog the same way.
Take a look at your navigation menu. Are the important items, such as About, Contact, and other key items there? Are there menu items that are unnecessary? It's easier for your visitor to find what she's looking for if you simplify.
What about the sidebar? The footer area? Are there old buttons, extra social media widgets, or just items that make the site look messy? Keep what you really need, and clean up the rest.
Making these simple changes will make your blog a much more welcoming place!
Need more help?
Developing your online space can be overwhelming, but you don't have to walk through it alone.
At Design by Insight, we create quality websites and blogs using WordPress and the Genesis Framework. In fact, we're listed by StudioPress as a Genesis Recommended Developer. If you're ready to take your blog or website to the next level, we're here to help. Just stop by our site and contact us to get started.
We look forward to seeing you all at Allume in October! It's going to be another great year!