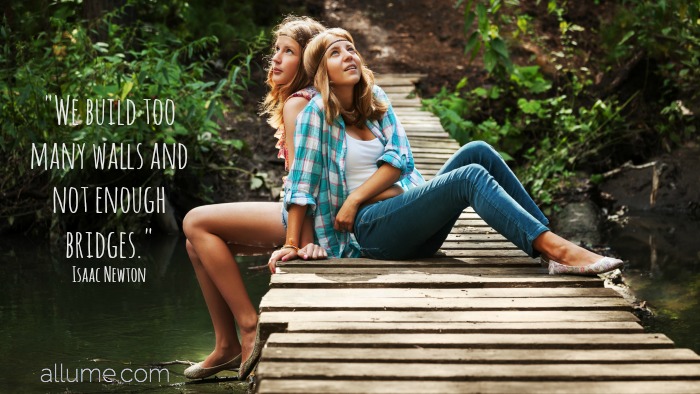 "We build too many walls and not enough bridges." Isaac Newton
I am 25 years old and death is a major part of my story. During the quarter century I've been alive, I have lost more than 20 family members or close friends. During high school, we lost ten classmates in my grade alone. Ten funerals in four years. Suicides. Accidents. Overdoses.
By the time I finished college I owned more little black dresses than any of my friends. I hated all of them, because they each one held a dark memory. A failed lung transplant—the heart of my joyful, fiery friend redlining on the operation table. A plane crash that took the life of an entire family, except my sweet friend's big brother. The day I squeaked through the eulogy at my grandfather's funeral. And that is just the beginning.
For years, I didn't know how to talk about the losses I've experienced.
I've always been strong in my faith, and I never wanted anyone to know how much I was hurting. I was desperately confused. I didn't want anyone to find out I spent countless nights staring at the ceiling through tears, whispering angry prayers to a God I desperately wanted to trust, "How could you allow this to happen again?"
I was angry. And frankly, some days I wasn't even sure God was out there listening to me.
But instead of asking for help or sharing my story, I covered it up. I built a wall of peppy, sorority girl positivity and empty "praise the Lord's." I barricaded my brokenness. I pushed others away with fake smiles and fluent Christianese.
But five years ago, during Spring break my sweet cousin Taylor passed away in a skiing accident. She was only 13 years old with an infectious laugh and baby-blue eyes.
The week leading up to her funeral was one of the most difficult of my life. For days my family sat bleary-eyed in my Aunt Tara and Uncle Todd's living room. We cried hysterically and made God-awful decisions about caskets, grave sites, and funeral music. And after we were utterly exhausted we shared sweet stories about Taylor's giving spirit and sputtered between delirious laughing spells and even more tears.
I learned a valuable lesson from my grieving aunt and uncle during that week. Their reaction to the loss of their daughter was not to hide out or wall up—they wanted nothing more than to share her story.
Instead of building a wall, they bravely offered their story of suffering to connect with and encourage others.
They built bridges.
Very quickly after the funeral, my uncle made the brave decision to quit his job so he and my aunt could launch Taylor's Gift Foundation, an organization with a mission to regift life through organ donation.
Aunt Tara and Uncle Todd now spend their time speaking all over the country about the most difficult day of their life. They have published a book and shared their story with Good Morning America, Ellen Degeneres, and Jeff Probst. They have inspired thousands to outlive themselves through organ donation. And by being open with their story they have comforted many people who are grieving their own losses.
I've learned that we must be willing to tell our stories—even the difficult ones. When we are brave enough to be vulnerable and honest, our stories become bridges of connection with others.
When God rebuilt the bridge to man—it required sacrifice. It was not easy. (1 Timothy 2:5-6) In the same way, building bridges to others with our stories can be painful. But it is absolutely worth it.
I'm not sure what heartaches you've walled up in your story, friend. But as someone who has found great freedom, healing, and joy in sharing the difficult parts of my story, I'd love to encourage you…
Will you be brave enough to build bridges by sharing your story?