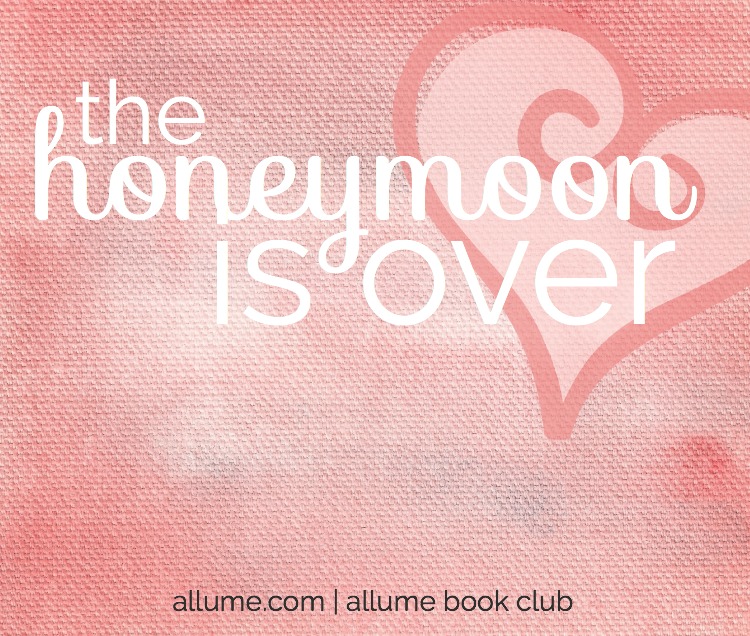 Oh boy. Chapters 13-15 ushered me into a full on meandering down memory lane. As BooMama recounted her early days before her marriage, and those first few years afterwards, I couldn't help but recall my own adventures and misadventures. We married at 20; by all accounts we were still children, wrestling to live like grown-ups. Marriage was much harder than I imagined. Way harder than anyone let on.
In all fairness, it is possible that I was too busy drooling over floral arrangements and completely unaffordable bridal wear to really HEAR the sage advice that was being offered in the months leading up to our wedding. I might have been slightly distracted by the fact that I was working two jobs and driving myself back and forth to Macon in the sweltering heat of middle Georgia during the high noon of the summer.
Whether people had tried to tell me, or they hadn't, that first year of marriage tried our patience with each other. Our cleaving rang with the sounds of doors slamming (me) and cars motoring off into the distance (him).
In Chapter 14 Sophie talks about how she had known David for 20 years and still they felt like strangers in the beginning. As I read this I nodded and said things out loud like, " Right??!!" and "Amen". After our 4 years of dating we felt confident that we knew each other well–and we did, but marriage and dating are NOT the same.
And as He did for BooMama and David, God used these hard days of growing up together to teach us about sacrifice, submission and what love really means. We moved a couple of times, and church hopped, just like they did. We fought and made up and found our way through the immaturity and selfishness of our youth, into a place of willing surrender, compromise and generosity. We learned to communicate and respect each other, and discovered that while challenging, demonstrating grace is not impossible.
While my husband maintained a steady job, I found myself job-hopping more than I would have liked. I had to laugh at BooMama's eager search for an English teaching job, only to keep finding herself in the role of Spanish teacher. Oh God has such a sense of humor. I've worked everything from retail to waitressing, to working at a car dealership, to a brief stint as an admissions rep at a University. As much as I wanted to put my college degree to use, I continued to get jobs that had me spending huge amounts of time on the phone. I was good on the phone. But none of those were my dream jobs.
By the time I found a job that I really liked and was good at (and had potential for upward mobility), we started our family and I traded the office life for being a full-time mama. Then we moved. Again.
Thankfully, by this point, we had been married for 5 years and while the honeymoon was long over, God had brought us a long way into a much sweeter season of mutual respect and understanding. We had fully become a team in those 5 years before our first baby was born, which was a good thing because that first child–well, lets just say he wasn't a good sleeper.
What I am saying is that he didn't sleep through the night until he was 3 YEARS old. Three years of sleep deprivation is a ghastly thing–if that doesn't test your marriage, nothing will. I'm grateful to say we passed the test. God knew what He was doing. (Of course He does.)
I sat down to read chapters 13-15, and found myself engrossed well beyond the end of chapter 17 before I had to set the book aside to make Easter dinner. If you've been reading along, I'd love to hear your thoughts on this season of life.
What were your early days of marriage like? How did God stretch you during a particular season of transition?