Annie Downs is incredibly delightful.  She is warm, authentic, hilarious and loves God.  She's passionate about using her writing to highlight the everyday goodness of a real and present God to young women, college students and adults.  She writes so beautifully and with such a welcoming spirit.  Honestly, she is one of our favorite people on the planet.  We know that you are going to fall in love with her too… if you haven't already and we are honored to introduce to you our friend, Annie Downs.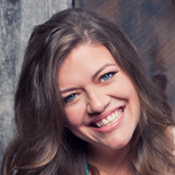 If you could only do one things for a whole year what would you want it to be?
I would eat out every meal with a friend. For a whole year, that would be like 1000 meals that I would get to share with friends and family and eat at really fun restaurants. I would set a goal to not repeat a restaurant more than once a week and I would write some sort of blog or website about who I ate with and where we ate and rate the food.
(Uh oh, this just got really real and seems like a great idea. LOOK OUT 2015!)
If you could learn to do anything what would it be?
I love learning new things. It is probably my favorite hobby. So I like to learn how to do things as much as possible. Today, I've been thinking that I would really like to learn how to use a sewing machine. My grandmother always sewed things for us, and I want to be able to do that for other people too.
What do you do with 30 minutes of free time?
I read. I always have a few books going at a time and even a few magazines strewn around the house that I wish I sat down and read more often. But when I do have a little 30 minute window, I grab something to read.
What do you miss most about being a kid?
Playing outside in the afternoon and reading as much as I want. I think I also miss what I didn't know I had- the ability to lay my head down on my pillow and have zero concerns about the next day or the bills or how life was going to work out.
If gifted an all expenses paid vacation to anywhere where would you pick?
Scotland. I lived there for six months about three years ago and I am dying to get back and see my friends and the parts of the country I was never able to visit. I could happily get lost in those little villages down the east coast of the country. I would love to see the northern islands and the highlands areas. I love reading historical landmark signs, so I wouldn't mind being driven around (this is all expenses paid, right?) and stopping every twenty minutes to see and read about the deep history of that beautiful place. (Now I'm homesick for Edinburgh… sigh…)
If I was coming to your house for dinner, what would we have? 
Ohhhh…. well. We wouldn't just stay at my house, because my house is boring and the kitchen is broken. (Not really, but it makes me feel better to imagine that the reason the stove doesn't turn on that much is because it doesn't work, not because I don't work.) We would walk across the street to a delicious restaurant called Copper Kettle where you can get the best coconut fried chicken in all of Nashville. I would let you pick which two vegetables you'd like, but I'd strongly encourage at least one of them to be the green bean casserole. Then we'd be almost as full as ticks, but we'd have enough space left to head next door to the homemade popsicle shop. Because I can't eat dairy, I'd have a strawberry one, but I'd practically insist you have the cookies and cream popsicle because it is heavenly.
What are your 5 favorite books?
Christy by Catherine Marshall
Cold Sassy Tree by Olive Ann Burns
Redeeming Love by Francine Rivers
A Million Little Ways by Emily Freeman
Here's To Hindsight by Tara Leigh Cobble
To learn more about Annie visit her here :: Website /// Twitter