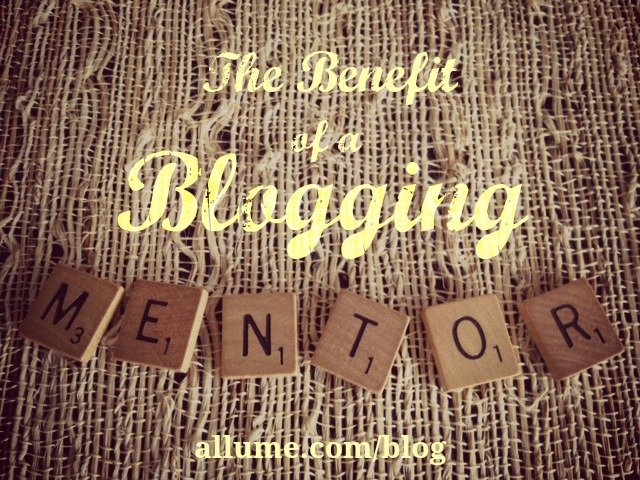 Do you have a life mentor? Do you have someone who pours their heart, wisdom, prayers, and love into your life?
Mentors have played a tremendous role in my life as a Christian. Over the course of my new life in Christ I've had a couple of different mentors. Each of these mentors has breathed life into my soul, showered me with their wisdom and loved me in a way I never could have expected.
After I began blogging I began to see that, just as in life, I had a lot to learn. I not only needed a deeper understanding of the technical aspects of blogs, but my writing required greater depth and insight. I wanted feedback and I craved constructive criticism that would help me progress toward my writing goals.
At first I started to "stalk" some of my favorite bloggers. I would look at the format of their blogs, watch how they hosted guests, ran giveaways, and shared their heart. Closely following these amazing bloggers taught me a lot, but I was unable to receive the personal one-on-one help I was craving.  
And that's when I decided to step out.
I am blessed that I have an in-real-life friend who is already several steps ahead of me in the blogging world. I admire her writing, her passion, and her professionalism. I wanted to learn everything I could from her, and so I took a chance and asked her to be my blogging mentor. Although she is a close friend, I was nervous about asking her. She has numerous kiddos, multiple writing projects on her plate, and many professional business projects in the works. I was worried she would see me as another addition to her already highly committed schedule.
But after a few days of praying about it, she agreed to be my mentor.
This new phase of our relationship has been a huge support to me. Although we don't talk about blogging on a weekly or sometimes even monthly schedule, I am grateful to her for the time and feedback she gives me. I have learned a tremendous amount from my seasoned blogging mentor, and I know I wouldn't have grown as much as I have over the last year without her.
It was easy in the begining to "stalk" different bloggers, trying to learn what they were doing and why they were making the writing/blogging decisions that they were. As my blog grew, and as my dreams came into greater focus, I realized the importance of running my blogging/professional world just as I run my life – with intentionality.
Having a mentor who is willing to pour their wisdom and insight into me has allowed for me to become more intentional in all aspects of my life, and so I am grateful to have found a blogging mentor to help me find that same focus and intentionality in my writing and professional pursuits.
And so I wonder, sweet blogging friend, do you have a blogging mentor?
Sure, maybe you "stalk" other blogs like so many of us do, but do you have someone who you can boldly ask for their guidance? Maybe this person doesn't yet know you exist, and that's ok. Take some time to pray about whether or not this person is worth pursuing as a blogging mentor, and if the Lord is fine with it, I encourage you to humbly reach out to them about it.
You may not be able to find someone who can commit to mentoring you right away, but don't get discouraged! Just continue to pray that the Lord may reveal someone who would fill that role. If you're anything like me, this relationship is sure to help you grow.
By, Mandy Scarr