As the wife of a detective/police officer, we have dealt firsthand over the years with safety concerns, both on my online space and my front doorstep. Deciding what to post online, both in the social media and blogging realms, can be a slippery slope. Here are a few guidelines to help you determine what to share with the world: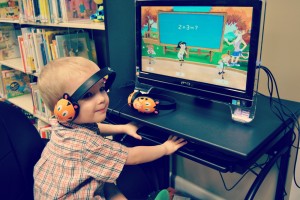 Location is Everything
Many people "check in" on facebook or twitter, revealing their current location, whether it be a park, restaurant, or picking their child up from school. This is dangerous in a thousand ways. If you are playing at the park, your husband is at work, and the internet world is aware, then they also know that your home is empty, leaving a prime opportunity for a break in.
Another online danger is sharing on social media or your blog when you or your husband will be out of town. When I went to the Allume conference last year, I blogged for weeks about attending and how excited I was. My husband dropped me off at a hotel room the night before my early morning flight, taking my vehicle back home. While I was away, a burglary case my husband had been working on broke. The thieves confessed to a break in of a home, closing his case. They also confessed to something else: casing our home for a break in while I was gone that weekend. They described our home to my husband, including each vehicle we had in our driveway and revealed what time they were watching our home.  If my husband had not solved the case when he did, we could have been the next victims.
On the other side of the coin, do not reveal that you are home alone with your children while your husband is away. Tweets such as "I sure miss my husband! Can't wait to see him on Friday!" is a huge indicator that you and your children will be home alone this week. We had a separate incident where a man called after midnight, angry, and threatened our family. He knew that my husband had been called out a few hours prior, and that he was back home.  He knew where we lived and knew when we had left that day and what time we had returned. Needless to say, our second shift officer friends spent a large amount of patrol time on our street that night.
Remember, location is everything. So, keep your current location as private as possible!
A Picture is Worth a Thousand Words
Deciding what photos to post online is key to your family's safety. Never post pictures of the front of your home, your house number on your mailbox, and crop out the license plate number of any vehicles in your family photos. I have plenty of pictures on my blog of the inside of my home–but they are never of points of entry or of any valuables we may have. I know many mothers that do not feel comfortable posting pictures of their children online. When I started my blog in 2008, I named it after my daughter and it was basically about her. Then two boys later, we are still posting heavily about them. I figured being from a small town, everyone already knew who they were regardless. Would I change that if I started a blog today? Not sure. Times are always changing.
If you are uneasy about your children's faces being online, be sure to check your social media privacy settings and always ask permission of other mom friends before posting pictures of their children online, either on your blog or social media. I have found this to be good practice with birthday party photos, and the mothers very much appreciate it!
In addition to photos, simply the basic info on your blog needs to be in check. Do not list your home address, cell phone number, or any other type of work contact that is easily accessible for readers.
Blog At Least a Week Behind
When it comes to vacation photos, date nights, birthday parties, camping trips, and the like, I am always at least a week behind blogging them. This is purposeful. I love sharing our family adventures, but only when we have returned home and settled, and never from the actual vacation site. Again, if people know that you are having an amazing trip overseas, they also know there is a good chance you are not home (Unless you have a friend house sit, which we have done in the past).
Just remember: what you post on the internet is there forever. Sharing your heart online can be the most humbling and rewarding experience. Your blog is a controlled creature; carefully selecting your content is a safe way to share your story online.