This year was hard for us. 
Farming took a nose-dive and finances tightened until I had a hard time breathing.
Infertility still stalked and some hoped for fertility aides did nothing.
Adoptions fell through. As in more than one. 
Our heater died at the beginning of winter. No joke. 
My four-day-a-week job dropped to only Mondays and Fridays. 
Almost every single calf born in our barn died within six weeks and it took us almost a year to figure out what was wrong. 
Every year around Thanksgiving, I jump at the chance to thank God for His gifts. I love listing them, rejoicing in them.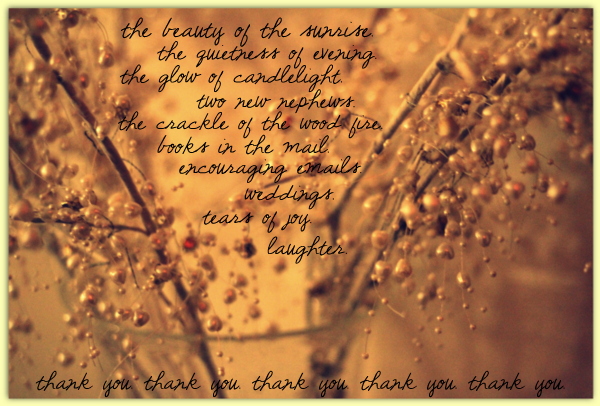 But this year I felt God say something different. 
–> Thank me for the hard things. <–
I didn't want to. At all. I'd rather focus on pretty, poetic words. But the Spirit wouldn't let me be. The nudges continued until I began to whisper in broken, tear-filled moments… 
Thank you, God, for infertility. Thank you for limited finances. Thank you for the days when farming drains every reserve I have. Thank you for less work. Thank you for the money that is owed to us that has not been paid. Thank you… 
And as I whispered thanks, I began to see. Glittering. Clear. Glorious. 
I saw my husband kneeling by the bed, gripping my hand and crying out to God. I saw the hardship and wounds to his pride refining the David-Heart in him. I saw his broken words of surrender touch the hearts of those around him, causing them to look and surrender again to the true Ruler of All. 
I saw the book that was born from sorrow come into being– and ran fingers over words on the computer screen: Thank you, Natasha, for writing about your pain being redeemed… I saw the written remembrance of my pain birth healing. 
I saw deep inside this self-sufficient, prideful heart– and found safety and restoration, again, at the feet of my Redeemer. The One who breaks down every layer that I build between His cleansing fire and my flesh.  
I'm not saying I like it. In fact, some days I hate every single minute. But I'm thankful. 
And I rest in His promise that this world is not the end. The fire does not last forever. Once the gold is purified and refined, it is shaped and molded into beauty. 
What hard things do you need to thank Him for this year?
In Him {and only through Him}, Natasha