I wrote a cute post for today. It had a fun theme, I had it planned in my head for two weeks, and over the weekend I felt convicted to write something else. 
You see, that post? The cute one? It was all about me. It pointed to me. To what I wanted to say, what I wanted to tell you about myself with a little twist at the end that added a sprinkling of God. Sometimes in this amazing online community – even when I'm surrounded by women who love & shine Christ – it becomes about me. It becomes about writing something that will be reTweeted and shared on Facebook, about comparing myself to the "big bloggers" and creating my "brand" online.
It needs to be about Him.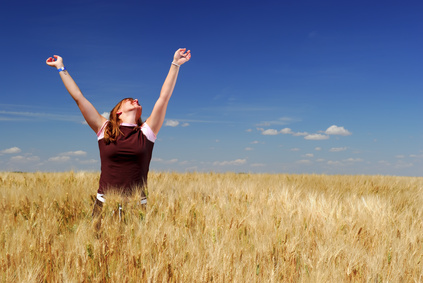 God doesn't want to be a seasoning at the end of a blog post, something so subtle that a reader might not be able to tell that what I write is for God's glory and not mine. He calls US to be the salt and light. He doesn't say "go live your life and, if you think of Me, add a quick mention of Me at the end." I am convicted by the grace of a God who loves me enough to pull me away from myself. He reminds me to give glory in all things because He alone is the One who provides. Everything I write about, the words I use, the ability to use social media to communicate a message – those are gifts from Him to do His work in this ever changing world. 
God loves community. He created the first community with Adam & Eve when He Himself determined that it was not good for Adam to be alone. We are created to live life together, and the blessings of blogging and social media have been tremendous assets in my relationship with Christ. I have found accountability, encouragement and friendship. But I have also allowed myself to become so caught up in trying to be all things for all people across all areas of my life – including social media – that I become empty. And I try to keep pouring out and suddenly it becomes easier for it to become all about me. Sweet friends – take time to refill. 
God love us enough to use us where we are. Even – maybe especially – when we are empty. I am humbled to my knees when He reminds me that I am chosen, loved, and redeemed. You are chosen by the God who created the entire universe. You were given talents and gifts by the God who formed everything from nothing. He loves you, and we're called to be part of community and love one another because the One who designed our lives is Love. God has great plans to use your life for His glory, He has plans for good, He has plans to redeem. Take time to be filled. 
I don't write this because I have it all together. I write these words because I'm, quite frankly, a big messy work in progress. As it is written so beautifully in Philippians 3:12-14: "I'm not saying that I have this all together, that I have it made. But I am well on my way, reaching out for Christ, who has so wondrously reached out for me. Friends, don't get me wrong: By no means do I count myself an expert in all of this, but I've got my eye on the goal, where God is beckoning us onward – to Jesus. I'm off and running, and I'm not turning back."
Crystal Stine