It was one of "those" weeks. Nothing was going right at work. I was irritated with my boss, the clothes in my closet, and life in general.  Our baby girl was sick and refused to eat. My alarm failed to go off three days in a row and I missed my time at the gym. I messed up my shower routine and shaved my legs BEFORE washing my hair. I put blush on before my foundation. I had to iron a shirt with my straight iron (on the plus side, it worked!). During my quiet time on our deck my sweet husband locked me out of the house.
Locked. Out.
In my pjs.
At 6:30 a.m.
And he got in the shower, so my annoyed, pounding on the door was futile. I fumed. I fussed. I finally remembered where the spare key was hidden. Off I traipsed, around the yard in my shabby pajamas, barefoot, annoyed, and had to try EVERY DOOR before I found the one our key opened.
Y'all didn't know I was so full of grace and loveliness in the mornings, did you? Oh yes. I'm a charmer. Ahem.
I wish I could tell you that God spoke a good Word into my heart while I was in the shower that morning, about forgiveness or being still and enjoying the time I had outside with His creation.  But I can't lie to you. I'm entirely too humbled to share this space to make myself out to be more than I am. I was just fed up with the foolishness of my week and wanted to cry "uncle." Or just cry.
Instead, I write to you. I tell you about my bad week, hoping it will make someone feel less alone for not having the perfect reaction all the time. And as it gets out of my head and onto the screen, it makes space to hear God to remind me that He is doing a good work in my heart, whether I recognize it or not. He has plans for me, changes He desires in my heart and my relationship with Him, and the big one, right now, is prayer. He wants me to learn to pray, to follow the example of the faithful in scripture, like Nehemiah.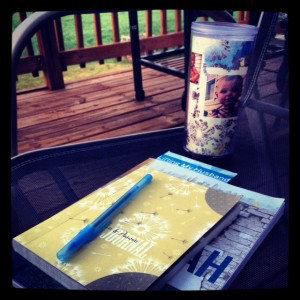 Nehemiah who chose prayer first, action second (if at all). Nehemiah  prayed for months when he heard what was happening in Jerusalem (Chapter 1) before he had an opportunity to act. He prayed under his breath before asking permission to go rebuild the wall (Chapter 2). He prayed when the builders were under attack (Chapter 4), before arming them and reminding them to focus on God and their families, and on and on.
God wants me to trust that He hears me, as frustrated as I am when I feel like a broken record and nothing seems to change for months at a time. When I feel attacked. When I forget why I'm doing what it is He called me to do. When I feel locked out of where I think I should be and nothing I do is working, He wants me to pray.
I'm nearly 30, and I admit that I don't really know how to pray. I can say the words, sure, but my heart isn't always engaged. I am, however, desperate and willing to learn. If this is an area you struggle with, I'd invite you to join me in asking God to reveal how we can unlock the doors to a fruitful and sweet prayer life with Him.
As I study through Nehemiah this summer, I'm committing to pray faithfully for God to reveal to my heart how He wants me to use the passions and talents He's given me, to open doors and to walk in faith. What has God asked you to commit to prayer this season?