I have a new identity.
I am chosen.
Royalty.
Set apart.
I belong.
I have been given a new purpose.
I am to be a proclaimer!
I must shout of His excellencies.
He has given me mercy and lavished me with His grace!
He rescued this orphan and made me His own precious child.
He is excellent, indeed.
Today, let's celebrate the truths of 1 Peter 2:9-10!
Which truths about who you are because of Christ will you proclaim today?
Come and share it with us in the comments.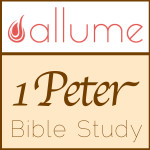 Download the free printable shown above