LOGAN WOLFRAM | Allume Executive Director, Host, and Hospitality Artist
@lifefordessert
Logan is the Executive Director and Host of Allume who most loves to write, connect, and encourage women. Daughter of a most extravagant and hospitable King, wife to Jeremy, and mother to 2 wild and inquisitive little boys, her days are filled with a combination of routine and plenty of the unexpected.  No stranger to broken dreams, she has found that a curious following of the Ultimate Creative, Jesus, has led her into a faith that is fuller and a life that is more exciting.  Stay-at-home-mom and interior decorator, turned writer and Allume CEO and host, Logan consistently finds that God doesn't necessarily call the equipped, but he will always equip the called. Despite the attempts of her contract-eating, mail-intercepting, massive dog, Titan, Logan's first book is set to release Spring of 2016 with David C. Cook. She blogs at LoganWolfram.com
DEDRA HEROD | Operations Director
@dedraherod
Dedra has a Masters Degree in making ambitious plans and a PhD in learning to laugh at them.  The education continues as she gives up control and a comfortable faith, in exchange for the new mercies of God in her ever changing surroundings.
The past few years have seen this southern girl pushed out of her comfort zone in Executive Administration to begin a ministry to the poor and hurting in her community.  Just as the door on her dream ministry began to open, the plan changed yet again, and recently she and her family have relocated to Greenville, SC with a much-prayed-for work opportunity for her husband. Dedra no longer pretends to know what's coming around the next bend, but her heart desires to simply surrender to the extreme obedience He's been calling her to. Her biggest loves (besides Jesus) are her man, her three college kiddos (almost five), family and side-splitting laughter.
Dedra owns her own consulting company and is serving as National Conference Event Planner & Keynote Producer for the Outcomes Conference in Dallas, TX,  and Director of Operations for Allume Media, LLC.  She blogs at dedraherod.com
CAREY BAILEY | Creative Director
@careycbailey
Carey Bailey is a woman who loves to dance around the living room with her husband to Michael Jackson, loves Blue Bell Pralines and Cream ice cream, loves reading to her 2 little people in a tree house and loves having Jesus as her BFF!
She is self professed candy junkie but sugar will never match her deep desire for helping women satisfy their cravings for abundant life. She does this through life coaching, speaking, and by co-hosting With Joy Retreats.
She is a Texas girl that transplanted to the desert of Arizona over 15 years ago to escape the humidity. She has worked for 20 years in mega churches serving families and most recently ended a 10 year run as the Family Life Director at Radiant Church in Surprise, Arizona.
Her years of managing over 40 employees, walking with families through heartache and blessing, her love of living out her days in God's truth, coupled with the Life Coach Certification process have brought her to this place of Life Coach, Teacher, and Dreamer.
You can connect with Carey through her Web-site, Facebook, Twitter, Pinterest, or Instagram.
MANDY SCARR | Assistant to the Executive Director & Sponsor Administrator
@mandyscarr
Mandy adores all things organization. Her husband has had to keep her from using her label maker to indicate where his underwear should be stored. It's an addiction, really. She brings loads of administrative experience and is eager to work alongside Logan and the team using charts, to-do lists, and even her beloved label maker to help make Allume an enriching, rejuvenating, and powerful experience for all who God gathers. Mandy believes wholeheartedly that there is great beauty and strength in women who come together in the name of Jesus. This has ignited within her a passion for Allume's mission to be a gathering place for kindred spirits to connect, learn, grow, and be refreshed so they can bring hope to the world through social media.
Mandy and her husband live in the suburbs of Washington, D.C. They have a beautiful baby boy and a fluffy pup, both of whom bring much joy and laughter to their home. You can find her writing at www.mandyscarr.com.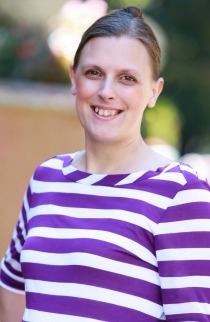 CHRISTIN SLADE | Community Manager
@christinslade
Christin is the contemplative, detail-oriented, over-planning, list-maker type. Maybe it has something to do with her addiction to office supplies, particularly pens. She is determined to smooth out the wrinkles of any operation.
Her goal is to care for the community of Allume to help cultivate a rich experience of connectivity and hospitality. The fellowship of women is a powerful and crucial element of growth for both the woman, and the community as a whole. The beauty of raw, genuine, and deep kindred is a necessity for healing and friendship.
A wife of 14 years and mother to seven, her days are full of plenty of busy and goodness. Christin writes to encourage, equip, and motivate moms and mom writers at ChristinSlade.com.
ERIN ULRICH | Website Development/Graphic Designer
@erinulrich
Erin's heart for helping others achieve their goals is the foundation of her successful business, Design by Insight. Using her ability to ask the right questions, Erin captures the message of a project and translates that into a great design. Listed by StudioPress as a Genesis Recommended Developer, Erin and her husband Phil have established a reputation for quality design and development for WordPress sites, professional client relationships, and personal commitment to each project.
Erin lives in South Carolina with her husband Phil and their two daughters, and their home is usually a whirlwind of creative activity. Erin and Phil are current writing the next book in their children's chapter book series, The Growly Books.
LAURA HOUSTON | Prayer Warrior
@facechase
Laura's authentically bubbly personality connects her to people and has enabled her to share her love of the Lord through music, teaching, and prayer for over 20 years. She has served in various capacities in children's ministry, working, training, and leading the next generation of believers. More recently, Laura and her husband, Josh, have led conferences focused on strengthening marriages through the restorative power of the Holy Spirit.
Laura's heart for Allume is to point attendees to Christ through the gift of intimate prayer with the Lord. She desires to foster an environment of intercession and lead the prayer team into opportunities to minister to attendees throughout the weekend. She believes prayer is a beautiful gift we have been given from God to meet with him, grow in Him, and seek His will.
Laura has been married for 10 years to her husband, Josh.  They have four beautiful children ranging in ages from 8 to 6 months. Laura has chosen to home school her oldest girls and continue to serve in ministry outside the home as time allows.
TONYA SALOMONS | Sponsor Care
@stonetoheart
Tonya is an encourager at heart.  Hospitality is her passion and she longs to help other women find their space in community. She feels that each of us have a unique contribution and that our role as Christ-followers include living our lives right out to the fringes – side by side. Her role with Allume will be to encourage and assist our sponsors at the conference.  Tonya loves Jesus and hunts daily for the gifts of His grace.  She writes at her blog, Stone to Heart, in hopes of having others recognize the beauty of their own story despite life's circumstances.  Tonya and her family, along with their two cats and one dog, make their home in Southwestern Ontario, Canada.
AMY TILSON | Speaker Care
@ACTilson
Amy is a researcher and tutor at heart.  Nothing makes her happier that finding what you need, before you know you need it and passing that information along.
Raised in the mountains of Southwest Virginia, this country girl loves to tackle a good subway system to find the hidden treasures any city can hold.  Being a serial mover with her husband of over 20 years and nearly 5 year old son keep life interesting.  You are just as likely to find her alone, with one friend, or in a crowd. You might even occasionally find her blogging at www.Amylearns.com.
SARAH MAE | Founder and Cheerleader
Sarah Mae is an influential Christian blogger, conference cohost, and author with a drive to inspire women to hold fast to Jesus and to live by faith. Her bestselling book, Desperate: Hope for the Mom Who Needs to Breathe, has given women everywhere the permission to be honest about the exhausting little years of motherhood.
She celebrates life with her husband and three children in the beautiful Amish countryside of Pennsylvania where she often ponders what life would be like if she actually finished all the laundry.
You can find her at sarahmae.com.