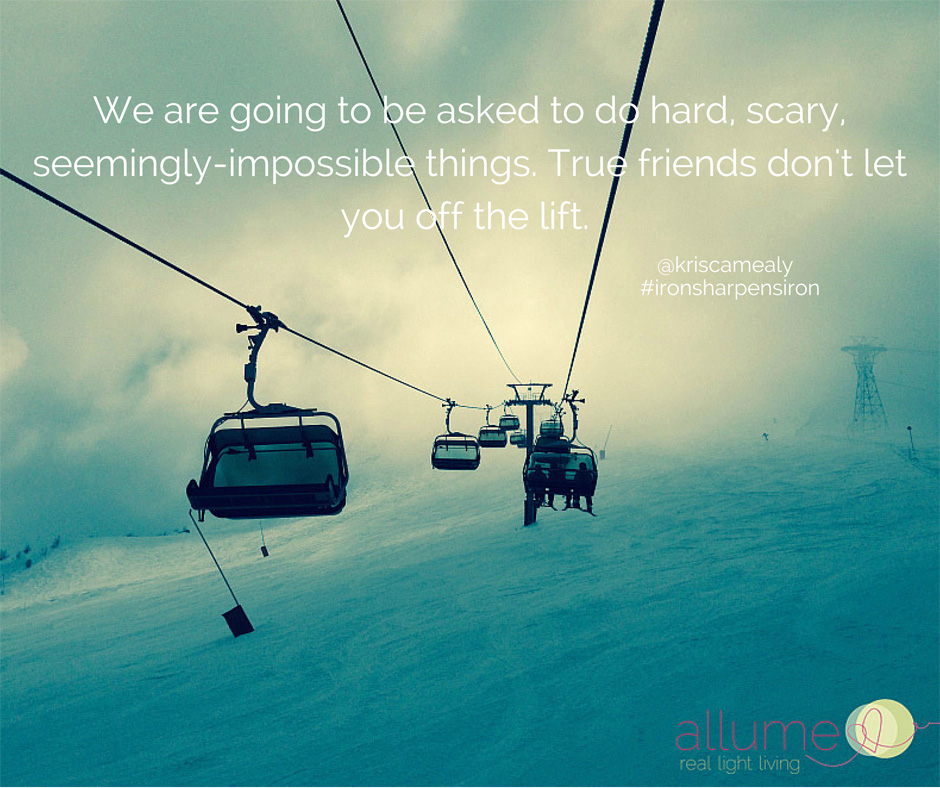 When I was 16 a friend pushed me to the top of a mountain. Within mere seconds of setting my feet at the top, I fell all the way down–literally from the top, to the bottom.
Let me explain.
The morning we gathered our belongings and suited up for a ski trip in the hills of Pennsylvania started off like any other cold Virginia morning. The church parking lot hummed with the chattering of anxious kids, spouting off about what amazing skiers they were and which mountains they planned to attack first. I felt like a coral fox, sporting my Mom's melon colored snow suit from the late 80's and her "Wookie" boots she'd picked up while we had lived overseas. (These boots were so rad. They were covered in long, white goat fur) I'd even matched my nail polish to my snow suit. Obviously, I had my priorities in order.
When we arrived at the ski lodge after pairing off with some friends, one of the guys I was with asked me to ski with him. As we made our way to the lift we needed to catch to the top, I watched as we passed all of the signs for the green (beginner) and blue-level courses (intermediate, for you non-skiers).  At this point, despite the frigid air, I started to sweat. "Where are we going?" I called to my friend who conveniently blocked the sign to the mountain we planned to ski.
I will never forget the playful grin that spread across his face as the lift chair scooped us up and started for the top. As the ground disappeared below us, and all opportunity for escape evaporated, I looked to the left to see the sign. We were preparing to ski a black diamond course. For you non-skiing people, black diamond courses are not for beginners. They are not even for people who have skied a few times. These difficult courses are intended only for people who have knees made of rubber bands, and nerves of steel. And also, lots of ski experience under their belts.
I had none of these things.
As our skis touched the snow at the top, my friend pulled me out of the safety of the lift. I strained to look over the edge of the mountain, desperately plotting my strategy for getting back to the bottom in one piece. The trouble was, I could not SEE the bottom. It looked like a straight drop off. I punched my friend hard in the arm and he took off shooshing down the mountain, snow flying in a cloud behind him.
"Come on!" he hooted as he whooshed past me.
I decided the best way down, was to angle my body parallel to the mountain and step down on the sides of my skis. My plan was brilliant except that by the third step or so, I hit a mogul and lost my footing. From that point, I don't remember much except that the entire mountain consisted of a series of teeth-chattering moguls, which I bounced off of, one to the next, like a pinball. Apparently, I howled all the way down. I don't remember this, but my friends, who were waiting for me at the bottom recounted the sounds of my howling for me in stereo. Bless them.
This goes down as one of the scariest, most exhilarating moments of my life. I was utterly terrified, but at the same time, inspired. The challenge to ski the mountain was not posed with malicious intent. My friends loved me and challenged me out of their own bravery.
It was risky. I could have been seriously injured. And while I don't recommend that as friends we push each other off of black diamond mountains in life, my friend gave me a gift that day. As a a semi-experienced skier, I tended to stick towards the easier slopes. I wanted to stay on my feet. I didn't want to risk looking like a fool. I wanted to play it safe.
If my friend hadn't pulled me up the mountain, I'd have never have done it myself. Sometimes, we need to borrow from the bravery of those who have more experience than we do. That day my friend pushed me dangerously out of my comfort zone. I faced a fear and survived it.
While I am no longer tumbling down mountains, I am facing down other fears as I continue to step into places God has called me to, with my writing and work. My friends these days challenge me to get on the lift and ride it to the top of wherever God has invited me to meet Him. 
This is the gift of good, godly friends. Iron sharpens iron. Having friends that push us to go harder and further than we think we can, strengthens us.
Following Christ's call on our lives doesn't often look like life on the bunny slope. We are going to be asked to do hard, scary, seemingly-impossible things. True friends don't let us off the lift. They hold our hand to the top and say, "come on, here we go!"
You've got to have friends, and if they love you, they'll be waiting for you at the bottom of the hill, ready to recount your glorious decent, and remind you how far you have come.
What are the black diamond mountains God is calling you to descend? Who are the people pushing you on and cheering you on the way? Mention your friends in the comments and share this post with them so they know they are one of your people.