When I wrote my ebook, I had an editor that checked my grammar, fixed typos and advised me on general readability. Some changes she suggested were small and others involved moving entire chapters around. The end product is vastly different (and much, much better) than my original book. I love my editor. 
Unfortunately, I can't afford to hire her for every blog post that I throw out into the world. And I'm guessing you don't have a budget for an editor either. But the good news is that a blog post is much more forgiving than a book. (yay!) 
I've spent a lot of time reading blog posts about writing blog posts (think about that for a minute… 🙂 ).  And I have been convinced that SEO or other traditionally important "blogging tips" are minor compared to one important feature. What really matters is simply, readability.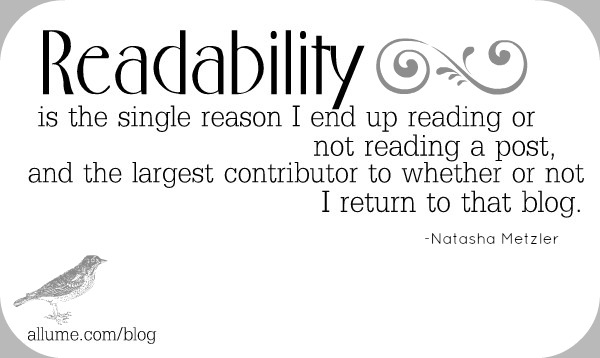 You can have a hilarious, touching or incredibly insightful story to share… but if your post is not readable it won't go anywhere. So before you hit "publish" on that amazing story of yours, check out these four things:
Is your post formatted properly?
Check for any long paragraphs. Utilizing white-space is extremely important. That means there should be blank areas around your writing. (i.e. short paragraphs, not too many advertisements, etc…) A paragraph that goes on and on is extremely difficult to read online. 
Are your paragraph lengths varied? Twelve two-sentence paragraphs = boring and monotonous. Split things up a little. If there are more than 2 or 3 paragraphs of the same length in a row, add to or take away until they vary. 
Is your color scheme a hindrance to readers? Not to be boring, but black/very dark words on a white/cream background is almost always preferred. I understand if you love bright yellow. Just don't let it touch your words in any way. 
Read your post out loud at least twice. 
Reading out loud will identify the places that trip up your audience.  If you stumble on the same sentence both times change it.
It also utilizes your other senses (i.e. hearing) to locate any words that you may be unintentionally repeating. When at all possible, do not reuse the same word in a paragraph (unless you're doing it very purposefully) and definitely not in a sentence. 
Ask yourself, "Is this paragraph necessary?" 
I love reading blog posts.  I especially love reading real-life-stories. I have a very short attention span. Pretty much, you have to be an incredibly engaging writer to convince me to actually read a long post. That means there should be no wasted words. Look at each paragraph and pose the question:  Does this paragraph serve a purpose? If it can be cut and the story goes on without it then cut it. 
See how I used bold and italics in this post? Utilize this feature. Don't overuse it, mind you, just utilize it. A reader should be able to skim your post and catch the most important parts of the story. (And hopefully, be drawn in. 🙂 ) 
What makes you read or not a read a blog post? Leave your thoughts in the comments! 
In Him, (and always for Him), Natasha