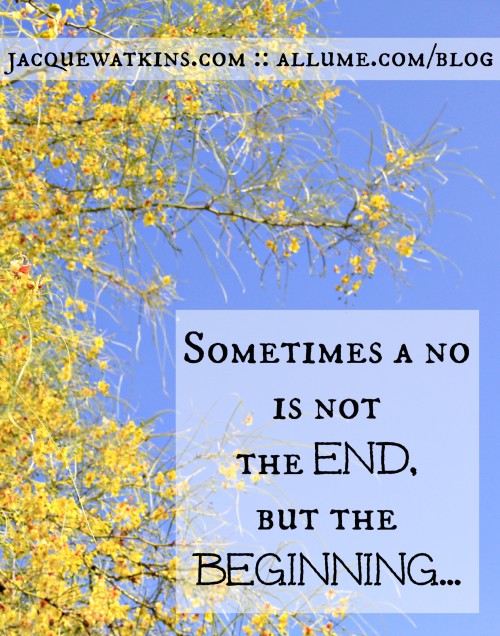 The email came on a Friday afternoon–an email I'd been waiting on for over a month…
The email that would hold the answer to a dream I'd been nurturing for some time, and the answer would be a simple yes or no.
When I saw it arrive in my phone's inbox, I halted mid-stride in front of the light-filled window. And plopping myself onto the couch in the middle of the room, I took a long deep breath and clicked it open.
And it didn't take long for me to read the answer.
This time, the answer was no.
I'd been talking with God about the possible answer for over a month. We'd been hashing things out, Him and I. And I thought I'd reached a conclusion which had me settled and stable:
He was in control, and the answer I'd get would be from Him, not from them.
I'd purposed my heart to surrender to whatever it was He'd give, whether it be a yes, or a no.
The email was full of grace, insulated with words of affirmation and cushioned with kindness. But no matter the graciousness of the no, the fact remained that the yes I'd dreamed of, would not become reality. And insulated or not, the dream-spaces of my heart felt the sting.
We've all had hard no's…
Relationship no's.
Financial no's.
New endeavor no's.
No's are strangers to no one.
And neither are the real and deep feelings of rejection that come with them. Even when a "no" may be best.
The rejection of a "no" often feels like the end. [Tweet that]
And receiving a "no" ignites a grieving of sorts–a letting go of what could have been, with an acceptance of what will never be. At least not how we'd dreamed.
Grieving is hard work.
And grieving is a valley experience, the exact opposite of a mountaintop.
Earlier in May, we went miniature golfing for my son's tenth birthday. I was last getting out of the car. And as I approached the entrance I couldn't miss the beautiful tree ahead of me.
It was full of yellow spring blossoms contrasted against the bluest sky.
I stopped.
And I stared.
The yellow on blue was stunning.
Later I learned why the view stopped me in my tracks: yellow and blue are complements on the color wheel, opposites.
And opposites contain a tension that holds our eyes–a tension that makes us stop and pay attention. If blended together, they make gray–a neutral, uninteresting, and lifeless color. But side by side, in their brightest form, they create a tension our eyes can't help but notice–a tension we're drawn to, stunned by, and crave again and again.
Mountaintops and valleys are opposites, and one can't exist without the other.
Without a valley, a mountaintop would simply be flat, like a plain. And while that plain would have less pain and adversity than a valley, there'd also be no invigorating view either.
Sometimes a "no" is not the end, but the beginning of a yes from God. [Tweet that]
It's an invitation to start in the valley, and begin the climb TO the mountaintop, with Him.
That "no", which plummets us to our valley beginning, grabs our attention because of the tension–a tension that stuns us and holds us. Making us take notice, and driving us toward God.
For everything there is a season, and a time for every matter under heaven. Ecclesiastes 3:1 (ESV)
May we be a people who surrender to our no's, embracing with joy the beginnings they bring.
Because sometimes a "no" really is a yes from Him–a yes to begin the climb.
And you know what, friend?
He promises to be with us every step of the way.
What "no" have you experienced?
In what way was it actually a beginning?