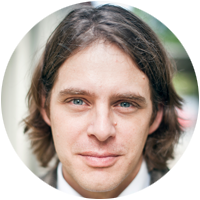 Nothing captures Tim like the quiet words of his wife, Christine, and the epiphanies of his three pixie daughters, Lyric, Brielle and Zion. He feels like a farmer most days, plying the writing trade in the fields of imagination.
He co-authored Home Behind the Sun: Connect With God in the Brilliance of the Everyday (2014) and Veneer: Living Deeply in a Surface Society (2011). His first devotional, Longing For More, released in the fall of 2014 with Bethany House. He also serves as the Spiritual Director for Praxis.
Tim, Christine and the pixies live in Oxford, England while he studies under Alister McGrath for the PhD in Theology. His topic isn't boring: Beauty and imagination as apologetic in the works of C.S. Lewis. And yes, he does believe in faeries.