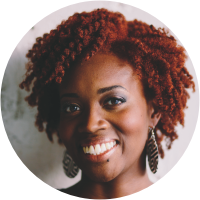 As a poet, speaker, author, and event host Amena Brown Owen's was named one of Rejuvenate Magazine'sTop 40 under 40 Changemakers. She is the author of two spoken word CDs and non-fiction book Breaking Old Rhythms.
Amena and her husband, Matt "DJ Opdiggy" Owen, perform a presentation of poetry, monologue and deejaying and host an open mic in Atlanta every fifth Thursday at Urban Grind Coffee.
She also facilitates workshops on creativity, writing, artistic community and becoming an artist-entrepreneur. Amena lends her voice to finding inspiration, truth, and purpose while encouraging others to do the same.