"Greatness comes through building others up, by aiming for their greatness more than we aim for our own." -Chip Ingram
God allows us to have a part in the building of His kingdom, but it is not always our own thing He is having us build. Sometimes He has us help another's dream come true, while our own is put on hold. And, this is like dying to self.
Sometimes He asks us, "Are willing to forfeit your position in order to assume a posture of humility by serving another? And are you willing to trust Me?"
Let Jesus be our example.
"Though He was God, He did not think of equality with God as something to cling to. Instead, He gave up his divine privileges when He took the humble position of a servant." Philippians 2:6-7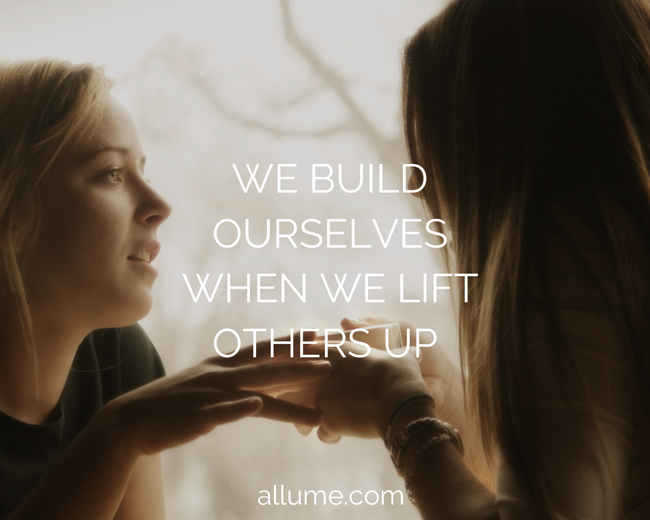 How faithful are you with what is not yours?
"And if you are not faithful with other people's things, why should you be trusted with things of your own?" Luke 16:12
God is the master builder. He assigns the workers. We all have a part. Only our part may not be what we hoped for. There is a season for everything. Your season will come. But while you are serving another and waiting on your own, God will watch how faithful you are with what you have been given. He is watching how you handle what belongs to someone else.
We become great in God's eyes by helping others become greater than ourselves.
When their success is not yours.
Are you okay with a quiet success? Can your heart handle someone else's success without envy and jealousy entering in? Can you truly rejoice at their success when you and God are the only ones who really know how much you gave to help make it happen?
There's a temptation for us to want to receive credit when we've given so much time and energy, heart and soul, tears and labor to the work. Sometimes we believe someone else's gain is our loss.
"In God's economy, someone else's gain is our gain, and someone else's loss is our loss. The best way to greatness in an economy like that is to pursue greatness—for someone else." -Chip Ingram
Your time will come.
I sat in front of an elderly preacher while he shared about how old he was when he began ministry. He was a business man, waiting, before he became an evangelist traveling the world. He told the Lord, "Let it take as long as you need to work all the pride out of me before you release me. I want to steward Your glory well."
It became my prayer too. Take as long as You need, Lord, as long as I need. Don't let me go before it's time. No matter how much I plead for You to let me. Work out of me all self.
When Joseph left the prison, his next step was the Pharaoh's palace. (Genesis 41) I can almost guarantee he did not have the palace on his mind. When he was released, most likely he didn't come out aspiring to be great, or possess any selfish ambition for the purpose of self-glorification.
It was time to save a nation.
There comes a time where God will provide people to help you build your own dream. But when it does your motives will be pure, and you will know authentically and deeply within, it is really not your own, but God's and for His kingdom, anyway.
True greatness.
God doesn't chastise us for the desire to be great. Greatness lives inside of us. He focuses not on our goal, but our means to achieve it.
Women around us may look at our status, our following, our accomplishments, our friends to be considered great in their eyes. But in God's eyes, serving others for His glory is true greatness.
"Getting the most out of life isn't about how much you keep for yourself but pour into others." -David A. Stoddard
We build ourselves by lifting others up. Let's keep building together.
with love,