It was just upstairs from the bar, this swank little super-club on Hollywood Blvd.  I would pick up shifts when I needed to make some cash, and this month I hadn't booked any acting or writing jobs and rent was coming up.  Black slacks, white button down dress shirt, black tie and a red fitted vest. I looked like a monkey, but I could play the part.
The night was young and the piano man was just waking up the keys.  First tables were filling up and I would get the next one seated.  I heard them coming up the stairs long before they reached the floor.  Tourists. I guessed it before they were even seated in my booth by the window, overlooking the boulevard.
"Are you an actress?" Asked the lady with blond curls in her sweet midwestern drawl?  "I bet you're an actress.  Have I seen you in anything?" Her husband laughed like we were enjoying an inside joke together, but I didn't find it funny.
"Can I start you with something to drink?  Jimmy is famous for his peach martini." They laughed again, like it was another joke. So I told them I'd give them a few moments and come back with some waters for the table.
"Oh no, don't go!" Said the man with the eyes still dancing. "It's just that all our waitresses on this trip have been actresses and you're the prettiest one so far so it's got to be true.  You're an actress too aren't you?"
I wanted to tell them the whole list of roles I'd played in the past years, but there I was in my uniform taking a drink order and just wanted to disappear into one of Jimmy's martinis.  "You guessed it, I'm an actress." I said it with a smile, and the two of them erupted into applause like they had just won a bet and were going to split the pot!
When I came back with their drinks they leaned in soberly and asked me this memorable question, "How long are you going to give it?"
I wish I could go back right now and watch myself closely; see the look on my face, hear the tense lilt in my voice.  "How long am I going to give what?  Being an actress?" They nodded expectantly. "Well, you see, I believe that God made me an actress, it's part of who I am.  So you are basically asking me how long I'm going to give myself the opportunity to be myself before I embark on the grand adventure of being someone else."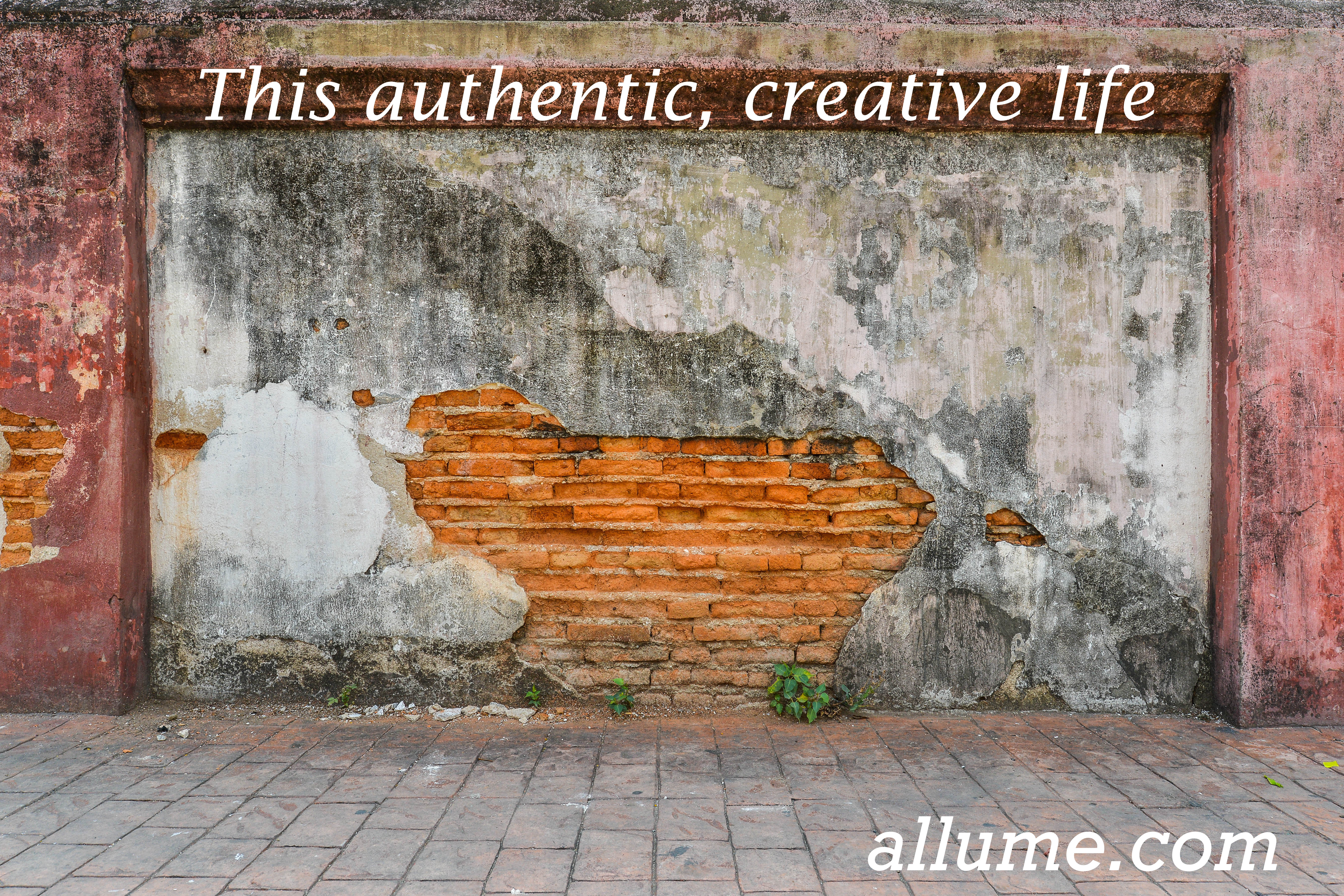 Of course, my answer wasn't really fair, I knew what they meant, still I needed to reaffirm who I was to my own ears and heart.
Maybe you need to do the same thing some days.  Maybe your friends ask you about your hobby-blogging; your mom doesn't understand this drive to do something other than just mother, since she was happy simply raising you; or perhaps your husband is questioning the cost of your domain name and website and plane ticket to Allume, asking if you're making any money yet on that Etsy shop. And it all feels like pressure – because maybe it is time to quit.
How long are you going to give it?
My face is hot as I type the question out, because I'm sort of passionate about how God made you; fearfully… wonderfully… creatively. And I don't want you to doubt for one moment His joy over your design!  I don't want you to question His delight in your unique dreams, as you balance so many things, every facet for His glory. He is near, enjoying how He made you.
That doesn't mean that your dreams won't change. Go with the flow. I'm not in Hollywood anymore. But the story-telling part of me is still alive.
So how long are you going to give yourself, to be yourself?
Here's my advice: Don't ever stop!
Is it possible that your dreams may end up looking a little different than you penned them in your journal?  Is it possible that God's guiding Spirit takes you down some varied path? Is it possible God prepared many small good works for you, rather than big ones? Is it possible that He's not finished with you yet? Absolutely. Time and again, Yes! So don't you stop!  You keep pressing in to Him and pressing on where His Holy faithful Spirit directs.
This month we're talking about being Authentic here at Allume.  This post is my clenched fist, shaking at every nay-sayer on your behalf. Those literal voices of family and friends and strangers… and the stealth heated whisper of the devil himself.  Listen to me.  Listen to me, not them, I've got the word for you today:
Press in and press on, my friends!
Write it out, sing it loud, say it in the syncopated rhythm of a spoken word poem, paint it, create it, lay it down and live it out in a one woman show at your next women's ministry event. Press on in the little moments of your mothering, married, ministry loving loving days, when there is room to create. And in this way, follow the call to be authentically true to who you are.
His Creative.