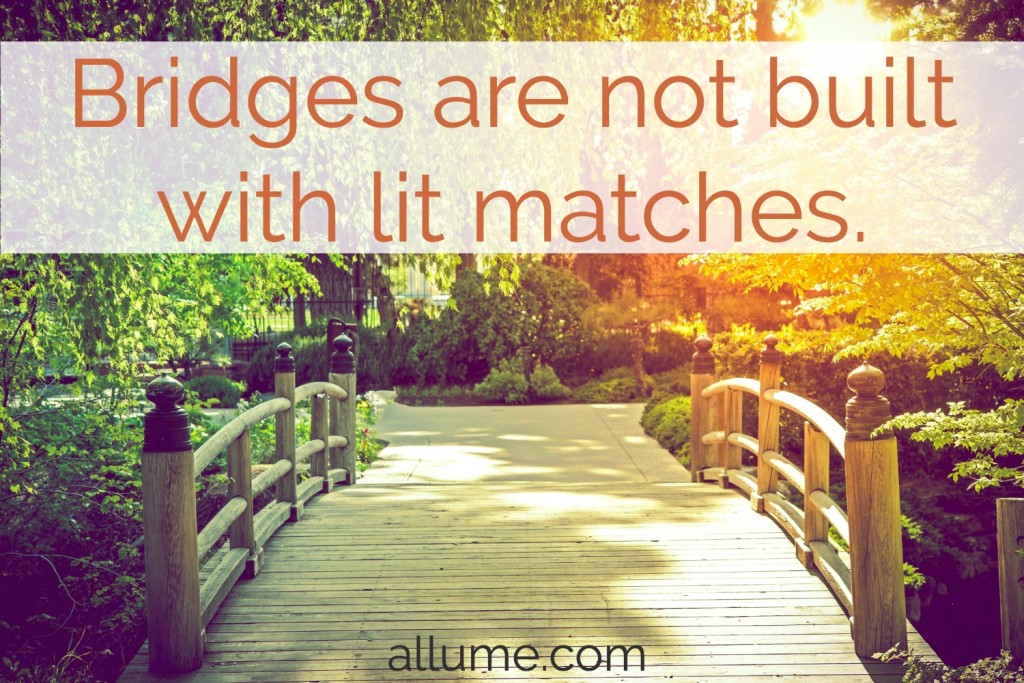 We are bridge builders. We reach and stretch with words. We long to connect across a divide. Of course, this desire has been set into our very being as image bearers of our heavenly Father and Creator. Our God spared nothing when the chasm to our rebellious selves was crossed. Fortunately, we have been shown how to build a bridge, by the life of our own Bridge.
And the Word became flesh and dwelt among us, and we have seen his glory, glory as of the only Son from the Father, full of grace and truth. John 1:14
In becoming flesh, there is a sharing in our experience. We must first seek to have common experience and community with others as we pitch our tents together in this world. Just as Jesus moved into our neighborhood and engaged with those at arm's length, we are surrounded online and in the real world by friends, enemy combatants, the destitute, the apathetic, and the clueless to whom we must relate.
Jesus was the manifestation and perfect reflection of God's presence as his feet trod the dust of Israel. We must be filled with the Spirit by the reading of the word, meditation, worship, and prayer to even begin to show this same glory on Facebook, Twitter, Instagram, or our blogs.
Therefore be imitators of God, as beloved children. Eph. 5:1
Oh, to be a copycat of that one-of-a-kind, unique, "like Father, like Son." Are we being kind, tenderhearted and forgiving (as we are forgiven) as we speak truth? When the injustice of this world raises its ugly head do we respond with righteous anger that is put to bed when we go ourselves?
When we speak out are we finger pointing, calling out, sharing posts that call attention to yet another area of darkness, adding to the pile, demanding to be heard, demanding others be heard – like a classroom of 3rd graders and their cacophony of "shhh"s when the teacher asks for quiet?
Are our words free of bitterness, wrath, anger, clamor, slander and malice so that when we speak out it should only build up as it fits the occasion, giving grace to the hearers (or readers)?
Bridges are not built with lit matches. Are we sure we are using the right tools in our endeavor?
Ephesians 5:2 continues on saying,
"And walk in love, as Christ loved and gave himself up for us, a fragrant offering and sacrifice to God."
By doing so He changed the world through individual changed lives.
Friends, let's construct bridges that cross divides and are two-way streets. Let's put up railings of patience that make them safe for travelers who venture over the abyss. Most importantly, may our signs lead ultimately to God and not ourselves.
Speak out against injustice, stand up for the cause of the oppressed, and denounce wrong wherever it exits – GRACIOUSLY.
Go forth and build.