You are a writer.
How dare you scoff?  Stop shaking your head.
Published or unpublished.  Digitally published or traditionally published.  Blogger or WordPress or Typepad.  500,000 subscribers or none.  PC or Mac.  Favorite pen and paper or computer screen.
Being a writer is not dependent on where you write or the topics about which you write.  Being a writer is dependent on you, bleeding a little bit of you out into the open through the written word.  At times others may be privy to your thoughts and tales while others will be woven only for you and Jesus to read.  No matter your platform, your medium or your publishing status, we want to encourage you to become a better writer.
Think of your favorite writer.
What do you like about them?  Is it their way with words?  Perhaps it is their ability to describe a location so vividly that you feel as if you are standing beside them and could reach out your hand and touch their world?  Maybe their words pierce your heart and bend it back towards God?  They might have a knack for explaining a particularly complex topic in an easy to understand language.
While our favorite writers possess specific talents significant to them, I can promise you that they have a basic understanding of grammar and spelling.  At least they know how to use spell-check.  They also have written and written and written and written and, well you get the picture.  There are a few skills that all wordsmiths must have in their tool belt.
31 Days to Become a Better Writer is about discovering what some of those tools are and how every writer can benefit from their use.  We're going to dive in head first to the world of words (not to be confused with Word World) and how their use can tame tempers,  bend wills, inform, ignite, inspire, console, calm, excite, empower, and ultimately save.
Now for the obvious….
What's this series going to look like?
Each day , Monday through Friday, there will be a post about some aspect of writing.  Obviously we are not going to cover the entirely broad spectrum of writing in just 31 posts, but we'll hit on some major ones.  Also, since I'm a mom of four and I know what my day looks like each of these posts (with the exception of a few) will be short, sweet, and to-the-point.  At the end of each we will offer up a challenge for that day.  Our goal is not to overwhelm you, but instead to give you a board from which to dive into the world of writing and then let you find your wings!
 …
We're tweeting with the hashtag #betterwriter so you can come join the discussion!
 Spread the word-grab out button!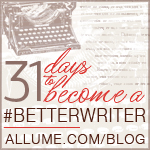 (Come back later for the button code!)
Would you like to receive the 31 Days to Become a Writer series to your email? Go ahead and click here. Get articles via RSS here.
…
Photo Credit: 20090823-Typewriter-2 by rahego