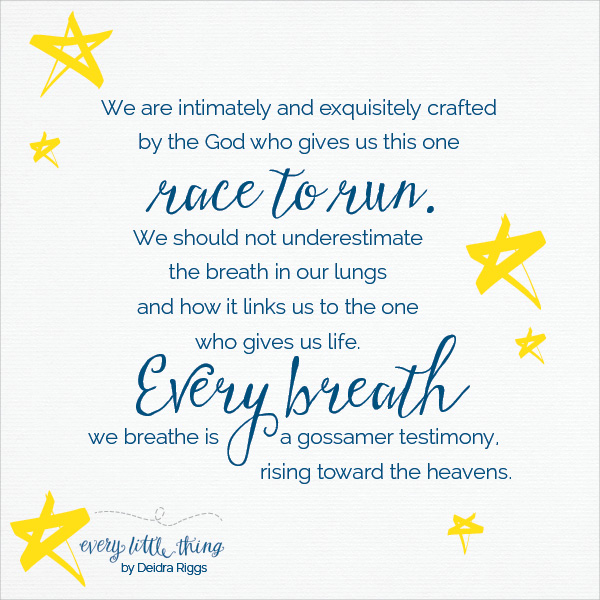 Do you ever get the sense that you are standing right in front of an opportunity to do something that will make a difference in the world? It's just a small, little something. Or so it seems.
It looks like smiling at a stranger, or checking to see if your neighbor needs anything from the grocery store. Sometimes, it looks like listening to the stories of people who are different from you, without trying to wish away the truth of what they're saying. Sometimes, it looks like going against the grain and standing alone in a crowd.
Whatever it is, it probably feels (at best) like a nuisance, or (at worst) a terrifying adventure with no clear direction and no promise of safety or success.
You try to brush it off. You turn up the radio. You turn on the vacuum cleaner. You open up the windows and listen to the birds, hoping the feeling will steel away into the outside air.
But, the feeling doesn't go away, no matter how you try to turn it off and tune yourself out.
So…
What if God is counting on you?
Yes, you. And me. What if God is counting on us?
God doesn't need my help in this world any more than you or I need our toddlers to help us make the bed, or mix up the brownies, or fold the laundry. In fact, asking our children to help often means the job will take longer and require us to tidy things up when the tiny fingers have moved on to digging in the dirt and building LEGO castles. But we delight in them and we desire to teach them, so we invite them along for the ride.
God delights in us, and he has asked us to be his hands and feet here in the world. He doesn't need us, but he has chosen to work out his will through us.
We look around our world today and wonder, Who will be our Dr. King, or Gandhi, or Mother Teresa, or Nelson Mandela? and we forget that God is always doing something new. God isn't looking for the next King or Gandhi or Mother Teresa or Nelson Mandela. God is extending a hand in your direction, hoping you'll join him. When you say yes, God works in and through you to bring about significant and lasting change for our good and for the kingdom. God wants to do a new thing in our world and in our time. Chances are good that you are the perfect person for the job.
So, dear sister of mine, let's turn down the music for just a moment and face the fears that keep us planted on the love seats in our open concept living rooms. We are salt and light. Exactly as we are. Right now. We are sinners and ragamuffins and vagabonds and weary travelers on the journey, and we are filled with the grace and peace and love of a God who cannot let us go.
We are full of light, and the light shines in the darkness—even when we fall short, and even when we miss the mark.
God has dropped the secret right into our laps, and we are changing the world. Pay attention to that feeling you can't shake and press into it. There's no need to work something up. Just go with who you are and what you know. God isn't waiting for us to get our act together. God is simply counting on us to surrender every little thing—every ordinary moment, every smile, every conversation, every little act—to God as worship. Every little thing we offer back to him, no matter how broken or shattered or wobbly or weak, he will redeem…for good.
Note: Portions of this article are excerpted from Deidra's book, Every Little Thing: Making a World of Difference Right Where You Are (Baker Books, 2015).
Enter the Giveaway!!