She sat on the stool at my kitchen island and helped me make chicken chowder while sipping on sweet iced tea. I gave her an old butcher-block cutting board, a bunch of carrots and my favorite knife.
The iron skillet sizzles with onions, garlic and celery as the soup pot heats the chicken stock. Its steam rises up like worship on Sunday.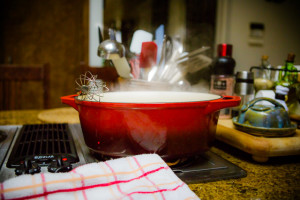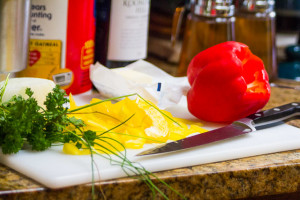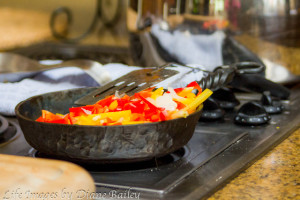 My friend chased the lemon in her glass with her finger, as her pregnant pause prepares to birth a new conversation.
Brushing back a renegade curl from her forehead she begins telling what is on her heart. " I thought life would be different by now."
"What were you expecting by this time?" My spoon begins to ladle the onion mixture into the chicken stock.
"More success as a writer than I have now. Every time I sit down to write, someone needs something. My writing is broken into a thousand little pieces. It feels like interruptions have crushed my creativity." She lifts the lemon from her glass and bites it causing her face to twist into a knot.
Laughing, I wipe out the iron skillet and begin mixing the ingredients for cornbread.
As all the dishes cook, I motion her into my workroom. Showing her a bracelet I'm working on, I draw her attention to the cut pieces of silver scattered across the workbench. All of these cut pieces are involved in one bracelet.
At first, all of this looks like one big disaster. I work on it – walk away – work on it – walk away, until it finally begins to take the shape of a bracelet.
We walk back into the kitchen and I pour the hot soup into bowls.
Look at all those beautiful carrots you chopped up for this soup. On the chopping block it looked like a carrot massacre, but in the context of this soup they are morsels of rich flavor.
Interruptions, when you are trying to create your art can be frustrating. We need to try to slow a bit and ask God, "What are you showing me in this?"
Instead of a writing massacre, we may discover He is adding richness to our basic.
God wants more for us than a basic chicken-stock life.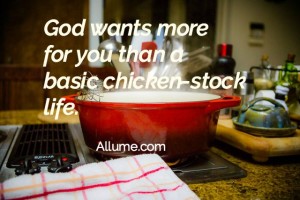 God wants us to live life to the fullest because that is the life that brings us joy and Him Glory.
You can make a meal out of chicken broth and bread. But wouldn't you rather have a meal with chicken, carrots, butter, cream and cornbread? If so, then it takes patience, and it takes things breaking into pieces before it can come together into something wonderful. 
"Oh Lord, how many are they works! In wisdom Thou hast made them all; The earth is full of Thy possessions. Psalm 104:24
Creamy Red Pepper (and chicken) Soup
4 tablespoons olive oil
2 onions, chopped
2 carrots, peeled and chopped
3 garlic cloves, chopped
2 teaspoons chopped fresh thyme leaves
6 cups chicken broth
2 (12-ounce) jars roasted red bell peppers preserved in water, drained
1 russet potato, peeled and coarsely chopped
1/2 cup dry white wine
1 tablespoon sugar
Salt and freshly ground black pepper
16 (3/4-inch thick) baguette slices, cut into 1/2 to 3/4-inch cubes
1/2 cup mascarpone cheese
Breast meat from rotisserie chicken chopped fine. ( This is my addition to the recipe)
Directions
Heat 2 tablespoons of oil in a heavy large pot over medium-high heat. Add the onions, carrots, garlic, and thyme and saute until the onions are translucent, about 5 minutes. Add the broth, bell peppers, potato, wine, and sugar. Bring to a simmer over high heat. Decrease the heat to medium-low. Partially cover and simmer until the potatoes are very tender, stirring occasionally, about 30 minutes. Cool the soup slightly.

Using an immersion hand blender, puree the soup in the pot until it is smooth. Alternately, working in batches, puree the soup in a regular blender, taking care while blending warm liquids. Add finely chopped chicken, Season the soup, to taste, with salt and pepper.

Meanwhile, heat the remaining 2 tablespoons oil in a heavy large skillet over medium heat. Add the bread cubes and saute until they are crisp and golden, about 8 minutes.

Ladle the soup into bowls. Dollop a tablespoon of mascarpone in the center of each bowl and top with croutons. Sprinkle with pepper and serve.
Recipe from the Food Network by Giada De Laurentiis
Hey! If you're coming to Allume or interested in coming but are still on the fence, come join our Facebook community here.