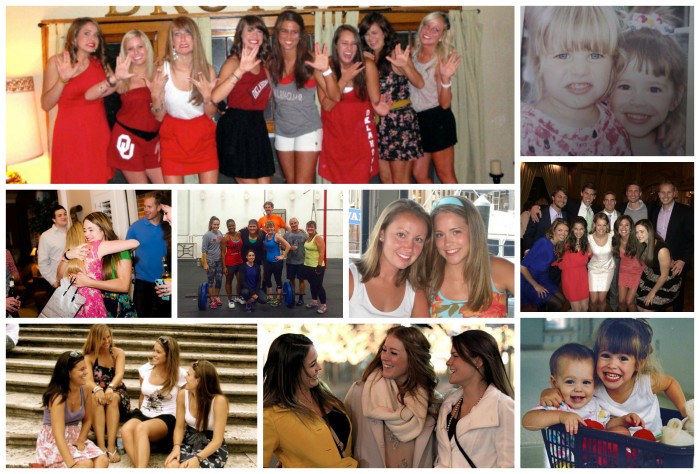 There are two types of friendships—friends who are planted into your life and friends you have to hunt for.
Planted friends are the ones God graciously buries into your life without your consent. These are the friendships that bloom effortlessly; the ones that seem to fall from the sky and develop in a comfortable way. Just like all friendships, planted friendships still require work and selflessness and conflict resolution, but they begin with a seed you never had to plant.
It's your sister. Your mom. Your cousin. It's the little girl who moved in next door when you were two, and twenty years later you look up to realize she is closer than family. It's your potluck roommate in college, who turned into your best friend.
As an introvert, I am especially thankful for planted friendships because they blossom without forcing me to go outside of my comfort zone. They are safe and comfortable and natural.
It seems that as I grow older, there are less opportunities for planted friendships to form. In school, there were plenty of chances to meet new kids – a new class, a group project, cheer practice.
Now—in grown up life—making new friends takes work. It can be difficult, discouraging, and scary.
That's where the hunting comes in.
Hunted friendships are the relationships you must go looking for—they most often begin when you step out of your comfort zone.
I've learned the best way to begin a new friendship is with brave vulnerability.
Rather than waiting for a friendship to start itself, some of my very best friendship began after I took initiative, risked rejection, and dropped the façade to reveal my true self.
Last year I attended Allume solo as a newbie.
To say I was nervous is an understatement. Every time I walked into a session and scanned the room for a seat, I wanted to throw up. This was definitely out of my comfort zone!
The first morning, I worked up the courage to introduce myself to Tiffany. Since that breakfast, Tiffany has become a treasured online friend. From afar, I've gotten to cheer for her as she bought her first home, and pray with her as she waits patiently for her husband to return from deployment in South Korea. More than a few times, Tiffany's encouraging comments have pulled me out of a disheartened blogging rut. It makes me sad to think of what I would have missed out on, had I not been brave enough to introduce myself that morning.
The last night of Allume, I noticed a group of women laughing together in the corner of the lobby. I circled the lobby several times before I finally convinced myself to ask if I could crash their party—what if they say no?
I'm so glad I risked rejection and crashed anyway! It was that night I got to know inspiring women and kindred spirits like Carey, Kristin, Ginger, and Krista.
Jumping on a plane to South Carolina to attend a conference with 400 women I'd never met before, took effort. It was scary and uncomfortable and I'm so glad I did it!
Do you find it intimidating to seek out new friendships?
If you haven't figured it out by now—I do! But I've also learned the reward is much greater than the risk.
Dear friend, I pray that you will treasure the friendships God has planted into your life but not be afraid to load your quiver with arrows of vulnerability and hunt for new ones!
A few practical tips for friend hunting:
1. Ask God to hunt with you
God cares deeply about your playmates. He desires His children to be surrounded by a supportive, life-giving community. (See Proverbs 13:20, 27:5-6, and 27:17.) So, invite Him in as you bravely seek new relationships and continue to grow old ones! Your friendships are never too small (or too big) for the Lord to be intimately involved in.
2. Forgo the camouflage
The best friendships are formed when we are courageous enough to be ourselves. When hunting for new friends, it's best to take off the façade of perfectionism and dress in humble authenticity.
As the Velveteen Rabbit said, "Once you are real, you can't be ugly except to those who don't understand."
3. Take risks
Is there a woman at church/work/the gym whom you'd love to get to know? Ask her to coffee!
Are are thinking, She's too important/busy/popular or Why would she want to be friends with me?
Take a risk—ask her anyway! (She's probably thinking the exact same thing about you!)
Some of my favorite friendships were born from an out-of-the-blue email or text to someone I wasn't sure would respond:
Two years ago I read about the COO of a Fortune 500 company and founder of 4word Women in a magazine. A shot in the dark, I sent her an email to see if she would meet me for coffee. Today Diane is a dear friend and invaluable mentor!
Once, my boss met a passionate worship leader on a plane and suggested I reach out to her. He thought we might enjoy meeting one another. So, I drove across town to meet a stranger for iced tea. Today, Julie is one of my best friends in Dallas and an amazing ministry partner!
And a few years ago, I learned about a woman from Minneapolis who shares my passion for discipleship. I was nervous, but I called her. Today, Stephanie is like a sister. Since that phone call, we've visited one another's hometowns (multiple times) and have made tons of memories.
What risk will you take to connect with a new friend this week?
It will be uncomfortable, but I promise you won't regret it!