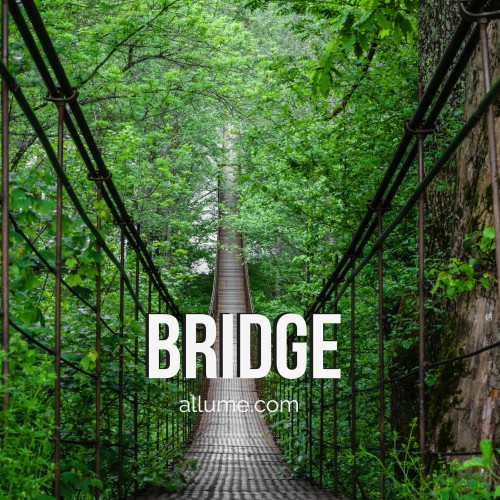 I cross it nearly ever day leaving my house.  It's the fastest route to the interstate, and is a great cut-through to head towards the opposite side of town.  I avoid traffic when I cross over and then shortcut through the neighborhood that is adjacent to mine.  For sure, it's the best way for me to get most anywhere.
The bridge is just 5 houses down from mine.  Crossing a lush green golf course that I can't see very well for the tall fences on either side, passing over it takes me to a completely different space.
We just moved to a new house less than 2 months ago.  I hadn't even been in this neighborhood before we found this house and am having to learn my way around this different part town.  Nevermind that Greenville has been my home for nearly 20 years, this move has exposed me to unfamiliar areas, and I learn new shortcuts (and sometimes long-cuts) several times per week.
The neighbors tell me that our street used to be a dead end until the builders doing work on the golf course created the bridge to provide easier access to the work they were doing.  Now two neighborhoods are connected, that to be honest, are really super different from one another.
It didn't take us long to realize the massive economic disparity that separates our respective neighborhoods.  Friends would call on the way to visit for the first time, sounding a little nervous and saying, "um…I think we're lost.  The GPS says we're close, but it really doesn't look like it."
"Just cross the bridge and we're just a few houses in," I'd tell them.  "I promise, you're in the right place."
One one side of the bridge is a upper middle class suburban neighborhood, and on the other, much smaller old mill houses.  Honestly, it's such a juxtaposition that the disparity is never far from my mind.  I cross the bridge nearly every single day.
On my way to somewhere else.
As we think about what we're doing here, you should know that we don't just want to be bridge builders here at Allume.  We don't just want to be bridge crossers either. And as I've been thinking about bridges, and building them, truly, it's a great thing to do.  We should do that.  We should build bridges.  And crossing bridges…well, that's a good thing.  We should cross bridges too.  Definitely. But the thing that my daily drive has been ramming into my head the past 7 weeks is that unless we dig into what's on the other side of the bridge, unless we lean in to build on the side opposite from where we began, a bridge becomes nothing more than a thoroughfare…a way to get from one place to another.
I don't want to use bridges just to pass over on my way to somewhere else, I want it to be the thing that helps me experience the other side.
And when we talk about people and relationships and falling on differing sides of politics or theological issues or moral codes, we HAVE to build bridges to help us understand and have compassion on the other side better.  We can't just drive over, look out the window and observe the different area.  At some point, we have to stop the car, make a friend, and endeavor to truly understand what life is like on the other side of the chasm that was there before the bridge.
If we want to be people who build bridges, then we need to be people who spend time getting to know what's on the other side.  Bridges aren't just for passing through, they are for connecting two separate spaces.
If we want to operate in the fullness of our giftings together as a body of Christ, we have to learn to be bridge builders, bridge crossers, and students of a Jesus who asks us to authentically engage with what's on the other side.
What bridges do you see in your life that you are just passing over?  What opportunities might you be squandering to really make connection in a place that is different from you?  With a person who is different from you?  What do you need to do to engage with whatever is across the bridge?