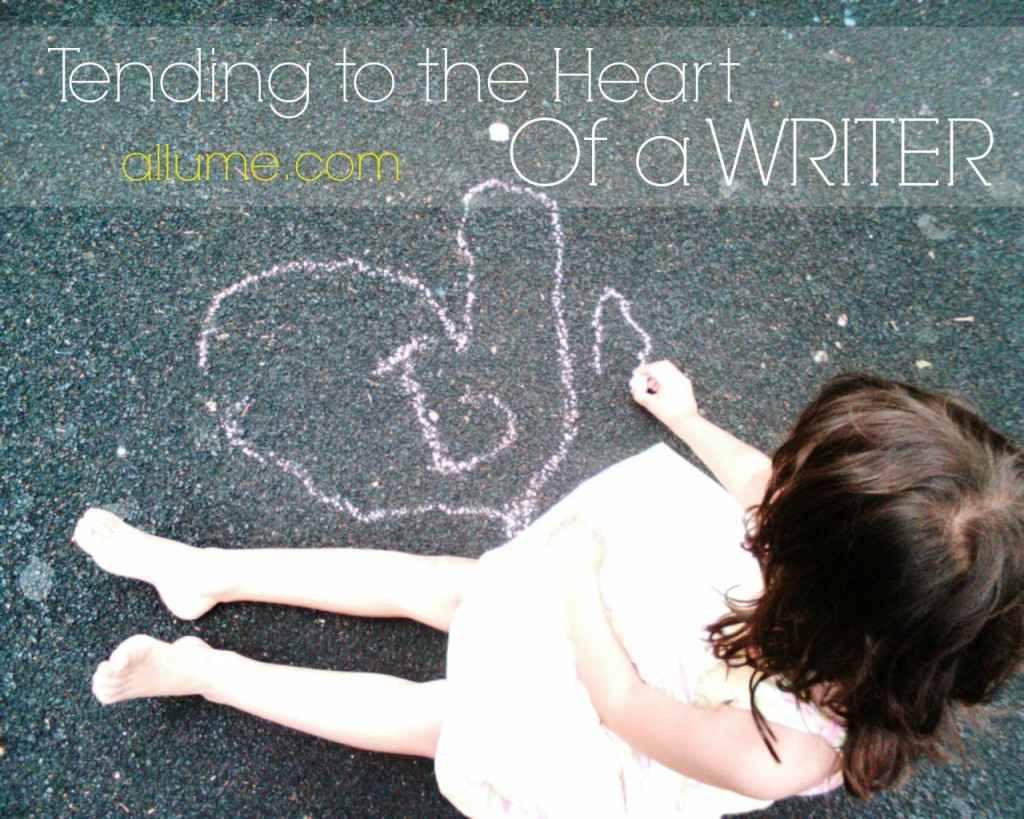 The page stared back at me. Blank. Crisp white and expectant-  it was ready for words to fill the margins, my very heart poured out through the vein of my pen . . . but the rush of ink didn't come.
Silence met my heart instead and my mind raced wondering, "How does one make a writing life, with words meant to be poured out, if day after day, she finds there are no words stored up to share?" 
As writers and bloggers, message makers and speakers, the craft that becomes our life's labor will likely be tied up in tending our words. It is of great importance then, that we have a firm understanding of where our words are rooted, how we choose the ones we do, and perhaps, also, from time to time, why they cease to appear at all.
Jesus said, "Out of the abundance of the heart, the mouth speaks." (Matthew 12:34) Our hearts are home to who we truly are. Our desires, affections, longings and loves . . . they all live there. Our words bear the mark of our inward character- the real us. The integrity of our words, and truly, the integrity of our very lives, depends on what is cultivated there.
As we tend to our words pouring out, how will we tend to and nurture the inner heart, from which all our words will flow? What sentiments and attachments live in the garden of your heart? Are truth and beauty flooding in, watering the whole of your being?
Or are there weeds that have begun to grow around the edges and vulnerable places, choking out and over-running the vibrancy of the sacred place God himself inhabits? On days when words seem scarce, I know that my work as a writer must first be about nourishing my heart.  I've come to find, it is actually, the first work, not only of writing, but of living too.
If I want to be a women whose messages come alive and ring true in hearts of others, then I must invest my heart in the very things I long to have pour out of me. If I believe I have a calling and a purpose to use words spoken and splattered across pages and computer screens for the glory of God's Kingdom, to speak life, bold encouragement and to give voice to those without a voice of their own, then I must knit my hearts in Christ's, I must invest myself in Him. For out of the treasure of our hearts do we produce good. (Luke 6:45) 
 I'm learning how to let God actively address my "weeds," my own emotions and hurts and insecurities. I'm learning how to make this a priority, a steady and constant anchor so that I might live with integrity, because I know I must allow God to address my own heart if my words will ever address the hearts of others. 
"Character is like a tree and reputation like a shadow. Shadow is what we think of it, but the tree is the real thing."  -Abraham Lincoln
In our online lives, its very easy to live a life of shadow, investing in and chasing after what is merely mist. But in our heart lies what is lasting and real and true before God, and before others. It will always trump what others think of us in the moment, our popularity . . . our blog statistics. I don't want to write a shadow life. I want to write a life of light.
Thankful to invest in our hearts together here,
Kristen