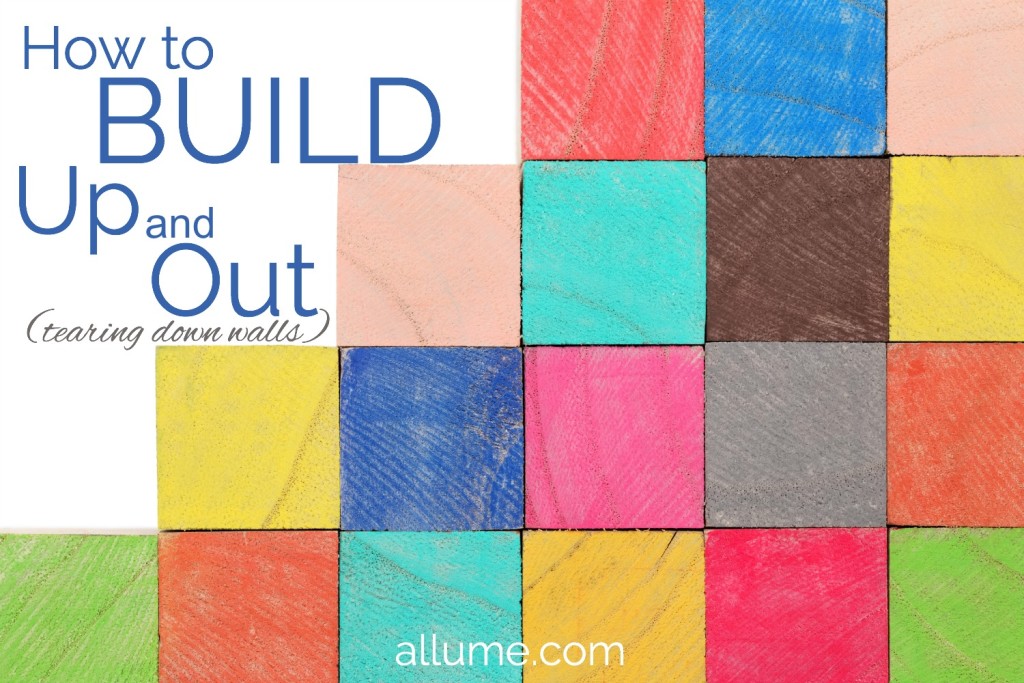 I am married to a builder.  I am a writer.  We work in different worlds, but live and create in the same one.
He constructs frames for homes, and I put together sentences.  We tear down and rebuild and press on in our creativity and craft.
We do not speak the same languages.  We have to work to communicate our processes and our purposes. His tools are strange looking and sometimes dangerous.  My work space is cluttered with paper, pens, nouns and verbs.
Yet, we get one another because we have had to build a foundation that joins us together despite our differences. He builds homes, I build stories.  But together, we build bridges.
Because we have not built walls around our differences.
How do we fashion the two worlds together, with rough edges, deadlines and the strong desire for other person to just get us?
It is easier to construct walls of definition within our lives from those that are different than us. Mending fences and building the Kingdom is the very reason we give all control of our gifts and desires to Jesus.
How can we build the Kingdom of God greater for His glory, when we are so focused on in our own voice, in our own world and into the very next thing that brings us closer to the end goal that may not be perfectly fit into the bigger plan?
Those very people that live down the road from you.
The writer that shares a different voice.
The lonely stranger that you overlook.
The best way to build the Kingdom is to begin with tearing down the walls of differences.
Who are the real neighbors in my life that I could work harder to BUILD relationships with?
What is my message or craft and how can it intersect with others to BUILD the Kingdom?
Where am I most needed for Christ and am I going to BUILD a community there?
Why am I writing and how can it BUILD bridges with others?
When will I begin break down walls and BUILD others up with my words, my gifts and His Word?
Every working relationship needs a builder.  And every one we meet, talk to, write for and live around should be a relationship we are working on.
My builder brings me home dust and dirt, mud and loose nails, bolts and tools that could easily be considered clutter, a nuisance or a hindrance to my own space.
I have chosen to see this as a perfect opportunity to know Him better. To hear his dirt and to share my own.  To clean up his mess and to sweep away my own.  To allow our differences be the very glue that holds us together.
Our words have impact. Be careful what we say and write.  But more careful who we keep them from.
Build up and not around.  Fences can be mended, but walls are not as easy to tear down.  Especially if they have been constructed with precision and purpose.
Who or what is on your purpose list today?  Will you be building up and out, or around?