Jessica Turner is the mastermind behind her blog The Mom Creative.  She plans parties, writes blogs, scrapbooks, makes a living on her blog, is mom to 2 littles with one on the way, AND she holds down a full time job.  Seriously, I'm tired even after just writing all of that.  She is amazing, and is bringing her spirit and knowledge to share with us at Allume this year. For real, put your hands together…this woman is incredible!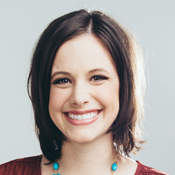 What was your favorite food as a kid?
My mom's homemade lasagna. It's still a favorite today!
What chore do you despise the most?
There are too many to list!
When was the last time you chatted with your neighbor?
This past weekend.
If you could only do one things for a whole year what would you want it to be?
I would love to spend a year traveling the world. I have not had many opportunities to travel outside the country and dream of seeing more of God's beautiful creation.
If you could learn to do anything what would it be?
I'd love to learn how to do mosaic tile or painting.
If I was coming to your house for dinner, what would we have? 
Something that I made in the crock pot because it is my favorite! Probably red wine pork tenderloin, mashed potatoes, salad and bread.
What are your 5 favorite books?
I love fiction. A few favorites: The Light Between Oceans, City of Dreams, Someone Knows My Name, The Orphans of Race Point and The Shoemaker's Wife.
Jessica is wife, mom, marketing professional, and founder of the lifestyle blog The Mom Creative. Find out more about Jessica by getting to know her here :: Website /// Twitter /// Facebook /// Instagram /// Pinterest