She's like family, this speaker from near our neck of the woods. She's someone that you'd love to visit and take a long walk with.  She believes that the imperfections of life add to its beauty, and has become a trusted voice in far beyond just the online space.  Nester is warm, inviting, and real, and it is our honor and pleasure to welcome her back to Allume this fall.
Friend, please meet Allume family member and speaker, Myquillyn Smith, aka the Nester.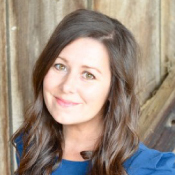 1. What chore do you despise the most? 
I hate putting laundry away and cleaning out the car.
2. When was the last time you chatted with your neighbor? 
I chatted with my 80 year old neighbor last week when we stopped by her house, she's delightful and cooks fried okra for us.
3. What sound do you love? 
I love the sound of a banjo.
4. If you could learn to do anything what would it be? 
I'd love to learn to paint.
5. What do you miss most about being a kid? 
I miss stalking mama cats to find their newborn kittens hidden away in random sheds in our neighborhood. (what does this say about my childhood?!)
Do you have a copy of her book The Nesting Place: It doesn't have to be perfect to be beautiful ?  It encourages women to stop waiting for their next house and to embrace their current home because every home has a silver lining.