The gentle voice and soft eyes of Emily Weirenga immediately reveal her to be a person of authenticity who loves far and wide.  She wears her heart on her sleeve and holds it out as an offering to the Lord and to those who also need a shoulder to cry on or a friend to understand that this life can be a brutal place to live and grow.  Her writing is transporting and gifted, and her words are bold and brave.  Emily is a dear soul with a captivating mastery of the written word, and it is our pleasure to have her join us this year at Allume!  Please enjoy getting to know, Emily Weirenga!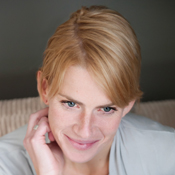 What chore do you despise the most?
I despise folding (and putting away) laundry. It piles up, nine loads high, on my dryer, and often my husband ends up folding it.​ Laundry and I do not get along.
What sound do you love?
I love the sound of the dishwasher humming, because it makes me feel like I'm being productive. 🙂 I also love the sound of my little boys' feet on the floor, or of my husband parking his bike after a long day of work.
If you could paint a picture of a place you have been what would it be?
I would paint a picture of the hills beyond Kampala, Uganda, filled with beautiful children who've been rescued from the slum and are now being nourished through Destiny Villages of Hope. It would be a picture filled with just that–hope.
If you could learn to do anything what would it be?
​I would learn how to make sushi.
If you could pick anyone as a mentor who would you pick?
I would like to be mentored by the late George Muehler, who started an orphanage in Germany and didn't advertise or ask anyone for funds, but just prayed for everything he needed–and the funds poured in. Him, or Brother Lawrence. I wouldn't mind washing dishes alongside Brother Lawrence, or serving the poor with Amy Carmichael. It's very difficult to pick just one :)​
What do you do with 30 minutes of free time?
I do way too much–check social media, begin to write a blog post, answer a few emails about The Lulu Tree (www.thelulutree.com), make sure my kids keep eating their lunch while they watch Super Y (which is when I get 30 minutes to myself), and work on something related to my books.​
What would the dream birthday present be?
A trip around the world. But mostly to New Zealand, Ireland, Brazil and east Africa.
What do you want to be when you grow up?
I want to be wise. I also want to be a fun mother, and to have the kind of marriage that makes my kids want to get married.​
If I was coming to your house for dinner, what would we have? 
We would have baby potatoes from our garden, a lettuce salad using lettuce, tomatoes and onions from our garden, and some barbecued steak from a local farmer, topped with a glass of red wine made by my husband.
What are your 5 favorite books?
The Glass Castle by Jeanette Walls, Kisses from Katie by Katie Davis, The Poisonwood Bible by Barbara Kingsolver, Lullabies for Little Criminals by Heather O'Neill, and White Oleander by Janet Fitch.
Emily's new book  Atlas Girl: Finding Home in the Last Place I thought to Look, was released this year.
Head on over to her place and find out more about Atlas Girl and of course, our sweet friend, Emily :: Website /// Twitter /// Facebook /// Pinterest