Friends,
She is a talented writer and teacher of the art of the written word… as in, for real, she actually teaches composition to students at Azusa Pacific University in the greater Los Angeles Area.  Denise is a gentle spirit who brings an understanding of how our words have the power to transform, and her expertise brings great wisdom to empower us all to use our words well.  Please enjoy getting to know a bit more about Allume Speaker and friend, Denise Hughes.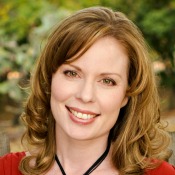 1. What sound do you love?
The quiet. I gravitate toward quiet corners and quiet hearts. I also love the sound of water. Pattering raindrops. Trickling brooks. Hushing streams. Swooshing waves.
2. If you could learn to do anything, what would it be?
 I'd learn to play the drums. (Did I just say I love the quiet?) My older brother is a professional drummer, and when we were kids, I used to watch my brother play his drum set while blasting songs by Journey and Toto on our family stereo. It always amazed me how all four limbs could maintain a different syncopated rhythm at the same time. It still amazes me.
 3. What chore do you despise the most? 
Cooking. I'd much rather spend my time reading or writing than spending two-plus hours in the kitchen trying to prepare a meal that likely won't turn out right anyway.
4. If I was coming to your house for dinner, what would we have?
I'd order take-out from Olive Garden. Having company is a great excuse not to cook.
5. What do you want to be when you grow up?
I grew up in a small farm town, and I rode my bike over to Grandma's house every day. Grandma always greeted me with a smile and a chocolaty treat. We would play Chinese Checkers all afternoon. She would show me stuff in her Almanac too — crazy facts about the world that she wished she could have explored. So someday (in the far, far future) I want to be a grandma like my grandma when I grow up.
 6. What was your favorite food as a kid?
Whatever Grandma was making. (It usually involved a box of Pop-Tarts and a toaster oven.)
7. If you could pick anyone as a mentor, who would you pick?
Other than my grandma, I've never had a mentor — at least not in any official capacity. But my books have mentored me. The Bible, first and foremost, has re-trained my thinking. Authors like C.S. Lewis, Dallas Willard, A.W. Tozer, and Mark Buchanan have mentored me through their writing as well. If I could pick anyone as a mentor, I'd have to say Beth Moore. I own every Bible study she's written. And when my church takes a summer or Christmas break from women's Bible studies, I go through a study by Beth Moore on my own. I am deeply indebted to her and her ministry.
8. If gifted an all-expenses-paid vacation to anywhere, where would you pick?
 My dream weekend getaway would be to Green Bay, Wisconsin to see the Packers play at Lambeau Field.
 9. What's in your purse?
More library cards than credit cards. A notebook. Several pens. And a small purse-sized game schedule for every NFL team. (A girl's gotta keep track of the win/loss records and the pending playoff picture.)
10. When was the last time you chatted with your neighbor?
 This morning. Every morning really. Our next-door neighbor is an empty-nester in her mid-fifties; she's also a widow who lives with Multiple Sclerosis. She walks with a cane, and she moves through her day with a quiet grace. It's our son's job to bring her garbage cans to the curb and back on Tuesdays. And we check on her frequently, especially if we haven't seen her outside in a day or so. She has our numbers too, so she can call us whenever she needs anything. But I can't take any credit for our relationship with our neighbor. The truth is, my husband lost both of his parents at a young age, so he has a huge heart for widows and orphans. He's the one who first reached out to our neighbor. My husband has taught me much about real faith.
11. If everything in your life aligned exactly as in your dreams, what would your life look like? Where would you live, what would you do?
 I used to dream of being a teacher. When I was little, I would line up my stuffed animals along the edge of my bed, and I would teach them lessons on my small chalkboard. When I graduated from high school, I started working full-time during the day, so it took me ten years of night classes to finish my bachelor's degree. It took me another couple of years to finish my teaching credential. And three more years of night classes to finish my master's degree. Today, I teach composition and literature. And I love it. I wouldn't change a thing. It was an arduous road that took a very long time, but by God's grace, I am living my dream every day. I never take it for granted.
12. What are your 5 favorite books?
 The Bible
 The Remains of the Day by Kazuo Ishiguro
 That Hideous Strength by C.S. Lewis
 The Pursuit of God by A.W. Tozer
 The Rest of God by Mark Buchanan
Want to know more about Denise?   Website /// Twitter /// Facebook /// Pinterest