The waters of this one's soul run deep and drip with poetry from every word.  She's soft and strong, wise and curious all at once.  A gifted writer, true friend, and soul sister, Amber Haines is like a cool drink of water on a hot summer's day.  She is honest and refreshing, not afraid to push into hard questions, but with a grace that is always preceded by her genuine smile and care for the hearts of people.  We are delighted to re-introduce most of you to our sweet friend and Allume Speaker, Amber Haines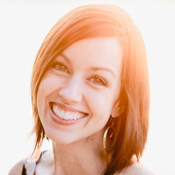 What was your favorite food as a kid? 
I loved cheese balls and chicken. In fact, when I received a pet rabbit as a​ gift, I named it Cheeseball Chicken.
What sound do you love? 
Hummingbird wings​
If you could paint a picture of a place you have been what would it be?
Inish Bofin, an island off the coast of The Republic of Ireland.​
If you could only do one things for a whole year what would you want it to be?
I would want to write.
 If you could learn to do anything what would it be?
I want to learn to play violin.​
 If you could pick anyone as a mentor who would you pick?
Tonia Peckover of Study in Brown.​
What do you do with 30 minutes of free time?
I'm not sure what this means. I have four sons.
What would the dream birthday present be?
A day alone in my own house.​
What do you want to be when you grow up?
An author. :)​
 What is something new you learned last week?
If I could talk my kids into believing what is true, I would. We depend on the Holy Spirit for way more than we ever give credit.​
 What do you miss most about being a kid?​
I miss not having to wear restrictive clothes or having to plan dinner.​ I miss going into the woods and hearing the whippoorwill call.
If gifted an all expenses paid vacation to anywhere where would you pick?
Ethiopia. Or Paris. Or India. Really? I could never pick.​
If everything in your life aligned exactly as in your dreams, what would your life look like? Where would you live, what would you do?
I would live on a small farm, and my husband and I would be writers. We would sing, and we would have huge parties.
If I was coming to your house for dinner, what would we have?
​We would have sage-encrusted bone-in pork and squash soup.​
What's in your purse?
My planner is always in my purse. Without my planner, my purse would be like a head without a brain.​
To learn even more about Amber, please visit her at her  Website /// Twitter Better yet.. get your Allume ticket and come hug her in person!