Community,
We are thrilled to introduce you to Tami Heim today.  She is as humble as they come and has an incredible passion to serve those called into leadership.  Her desire is to encourage front line leaders that are weary and need refreshing splashes of grace and mercy. She carries such grace and wisdom and it's a privilege to have her join us to impart some of what the Lord has taught her over the years.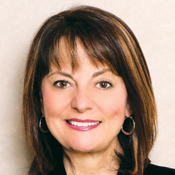 1. What was your favorite food as a kid?
Home-made pie crust scraps (What mom had left over when she made a pie – she baked them and sprinkled them with cinnamon sugar.
2. What chore do you despise the most?
I actually like them because I see progress! 
3. When was the last time you chatted with your neighbor?
Tonight. 
4. What sound do you love?
Toss up between ocean waves and rain. 
5. If you could paint a picture of a place you have been what would it be?
Santorini, Greece 
6. If you could only do one thing for a whole year what would you want it to be?
Create something. 
7. If you could learn to do anything what would it be?
Sing.
8. If you could pick anyone as a mentor who would you pick?
Jon Wallace – president of Azusa Pacific University 
9. What do you do with 30 minutes of free time?
Read. 
10. What would the dream birthday present be?
Chocolate cake and ice cream 
11. What do you want to be when you grow up?
Wise. 
12. What is something new you learned last week?
How to embed audio of me speaking into my PowerPoint presentations – who knew it was so easy?
13. What do you miss most about being a kid?
Having mom and dad with me. 
14. If gifted an all expenses paid vacation to anywhere where would you pick?
Italy.
15. If everything in your life aligned exactly as in your dreams, what would your life look like? Where would you live, what would you do?
Right where I am – doing what I am doing. 
16. If I was coming to your house for dinner, what would we have?
Something Italian. 
17. What's in your purse?
Phone, small notebook, credit cards, cash, black comb, business cards, three pens, lipstick, blush, powder. 
18. What are your five favorite books?

The Message Bible – but it is in a zone all on its own.
Upended: How Following Jesus Remakes Your Words and World
The Cure: What if God isn't who you think he is and neither are you?
One Way Love: Inexhaustible Grace for an Exhausted World
Cazy Love: Overwhelmed by a Relentless God
Radical: Taking Back Your Faith From the American Dream
Want to know more about our friend Tami?  Visit her on Twitter /// Facebook /// Pinterest /// Instagram